Black Rock Blazing Bangor JH, WC, CGC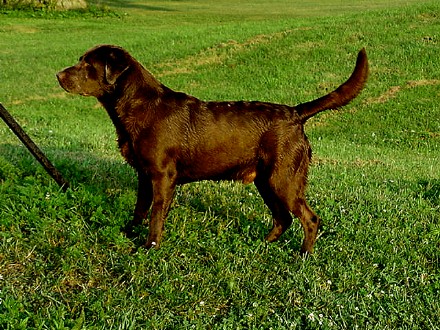 Bangor pictured at 2 years awaiting a winged bird.
Bangor was whelped on July 2, 1999. He is an very athletic, powerful, intelligent dog that will do anything to please his master. He is a natural in the field with outstanding marking ability and drive.
DAM: Black Rock 's Brigett Babe JH, CGC, WCX
SIRE: Cedarwood's: CH Ruthless Blazing Brentley photo: Brentley MH, CDX, CGC, WCX. Photo 2: brentmhl Brentley is the first Chocolate Champion Master Hunter Dog on AKC record, his dam MHR., Am. Can. CH. Plantier's Ruthless Ruthie, MH, CD being the first Chocolate Labrador to achieve a CH/MH. Brentley recently placed second in Graduate Novice at the LRCGB Specialty.
Vote for me in Top 50 Labradors Retrievers
Pedigree for BlackRock Blazing Bangor JH, WC, CGC
Sire CH Ruthless' Blazing Brentley CDX MH CGC SN078823/01 12-95 OFA24G OFEL24 CERF61 CHLT
Sire CH Flying Cloud's Tai-Pan SG042087 3-93 OFA29E BLK
Sire CH Hennings Mills Master Blend SE193504 4-86 OFA24G CHLT DNA Profile #V32792
Dam Green Valley's Carolina Mist SE551319 7-90 OFA34E BLK
Dam CH Plantiers Ruthless Ruthie CD MH SF646064 8-92 OFA25E OFEL25 CHLT
Sire CH Lindall Mastercraft SE392851 3-86 BLK (UKG)
Dam CH Cedarwood's Sable JH SE130480 1-87 CHLT
Dam Brigett Babe Brummett JH WCX CGC WC
Sire Gunnar Axel Navel SN094240/0504-95 CHLT
Sire Surrey's Rollin Thunder SF858639 4-91 OFA66E CHLT
Dam Hershey Banjo Robinette SF607626 3-93 CHLT
Dam Kola VIII SN025780/03 4-95 CHLT
Sire Chocolate Bar VII SM769133/02 3-93 CHLT
Dam Echo XXIIISM810184/01 3-93 CHLT
Hello my name is Mitch Elkins.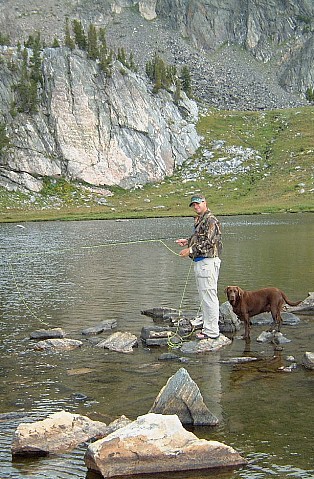 I am the proud new owner of Bangor. He is a great dog. very obedianced and quite the pet as well. I have just been working with one bumper and letting him get used to me for the last few weeks. He has been duck hunting with me when I get the chance to go. He really loves it. The second duck he retreived for us was a banded mallard drake. First banded duck of the year for us, it was quite the event for us all. Thanks again for the great dog.Field: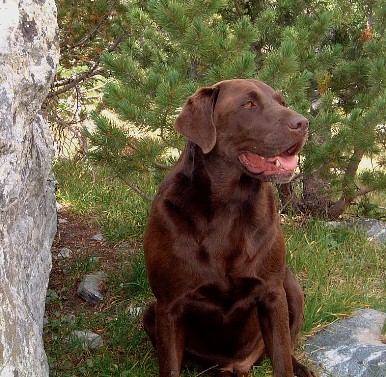 ---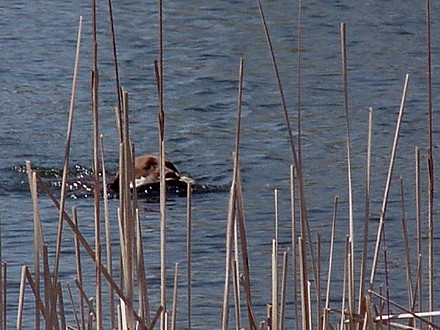 Bangor finishing his water retrieve for his JH title - April 2001
On 4/14, Bangor passed his Fourth leg of his Junior hunt title under Judges: Kim Bridgewater & Victoria Keldsen at the Backwater Retriever Hunt test in Syracuse, IN.
On 4/13, Bangor passed his Third leg of his Junior hunt title under Judges: June Radke, Steve Bernock and (apprentice) Wendy Nugent at the Backwater Retriever Hunt test in Syracuse, IN.
2000
On 10/7, Bangor passed the LRC Inc. WC (Sponsored by the Hoosier Labrador Retriever Club) test at Black Rock Farms in Kirklin, IN under Judge: Chris Cornelius - President of Backwater Retriever Club.
On 8/6, Bangor passed his Second leg of his Junior hunt title under Judges: Lou Riemenschneiders, Bruce Foster and Victoria Keldsen at the Backwater Retriever Hunt test in Syracuse, IN.
On 4/16, Bangor passed his First leg of his quest for his Junior hunt title under Breeder/Judge: Chris Wincek "KerryBrook" at the Backwater Retriever Hunt test in Syracuse, IN.
Bangor is making 125 yard retrieves in and out of water. He is a great marker and a nose for the bird. Bangor is very athletic with power.
As a puppy, Bangor was introduced to live pigeons on 8/21. On 8/26 Bangor was introduced to duck feathers. On 9/4 Bangor was introduced to live ducks, he chased them and ended up catching two ducks at 10 weeks old. He is "Ruthless" when it comes to retrieving.
Obedience:
On 11/18/99, Bangor completed the test requirements for the AKC Canine Good Citizen (CGC) title at the age of 4 1/2 months under Judge: M. Whitlock.
Show:
O2/13, Bangor won 2nd place in 6-9 month puppy dog class the Hoosier Kennel Club show at Indianapolis, In under Judge: Mr. Gerald Schwartz. Photo: Bangor 6-9 month puppy class
On 11/6/99 Bangor was shown at his first puppy match at the HLRCInc B-OB match and received a 2nd place under breeder/Judge: Gail Shearer of BonaVenture Labs.
Clearances:
Bangor eyes were CERF'd on 11/21/00 #SN657600002, CERF #LR-25107/2000-16.
Bangor Pics: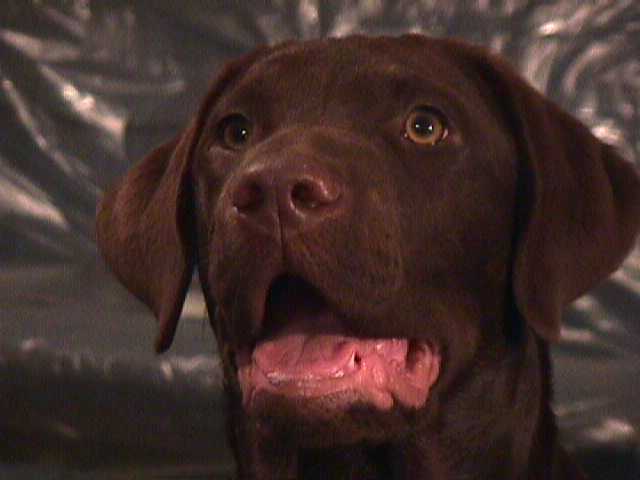 Bangor pictured at 4 months old.
Brigett and her son Bangor asleep after a busy day: BrigBang
"Bangor" at 6 weeks old (below):
Home: BRLABS
Updated on 9/12/03 at 10:15 p.m.