Black Rock Labradors
Presents
Black Rock Bomba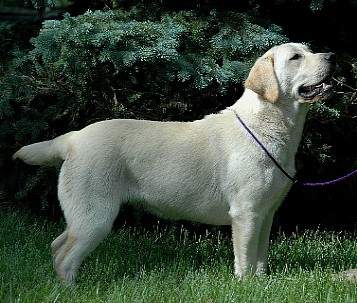 Bomba at 9 months old
Bomba was whelped on September 3, 2003. She was one of 6 yellow girls out of 9 puppies. The litter breakdown was: 1 black male, 1 black female, 1 yellow male and 6 yellow females. Bomba is just like her name a life of the party with dancing and joy! She has an outstanding head, nice bone, top line, angles and perfect movement. Bomba has a wonderful personality that we just love. For more about the history and why we named her Bomba see below.
Black Rock Bomba SR110798/02
Sire

CH SYLVAN MEADOWS BLACK ROCK Bravo WCI, CGC, WC SN709238/01 YLW




Sire
CH Hunt Club Sho N Tail Risky Business "Kruse" SN409221/04 5-98 OFA27G YLW





Sire
CH Tabatha's Drifter at Dickendall JH (Retired) SN 936340/04 4-93 OFA28G OFEL28 CERF91 BLK DNA Profile #V34550
Dam
Hunt Club Sealed With A Kiss SN024414/08 10-95 OFA27G OFEL27 BLK
Dam

CH Sylvan Meadows Sassy "Cassie" CGC, WC SN211221/04 12-97 YLW




Sire
CH Hunt Club Hennings Mill Gino NM981467/09 12-93 OFA25G OFEL25 YLW
Dam
Sylvan Meadows Coalchelsino SM802083/01 5-93 BLK
Dam

GINGERBRED BLACKROCK Belize WC SN/759919/03




Sire
CH Tabatha's Gingerbred Cutter JH, CD, CGC SN128293/02 2-96 OFA24G BLK DNA PROFILE# V66243

Sire

CH BANNER'S MUSKELUNGE BUCKEYE SM945026/01 7-93 OFA24G OFEL24 CERF86 CHLT


Dam

CH TABATHA'S INSPIRATION SF519369 12-92 OFA24F BLK Inspiration webpage


Dam

HENNINGS MILL GINGERBRED ATM SN348929/01 2-99 OFA24E OFEL24 BLK


Sire
CH Guidelines Master Card SN264903/01 10-95 CERF76 BLK (SWE) DNA PROFILE #430294
Dam

HENNINGS MILL'S COUNTRY CHARM SF446735 11-92 OFA32G YLW

This pedigree page was built for free at SitStay.com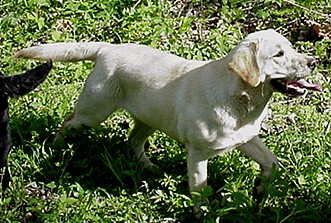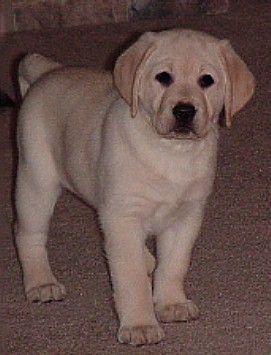 Bomba is a musical expression created in Puerto Rico. First developed at the end of the 17th century, Bomba flourished along the coast of Puerto Rico where West Africans and their descendants worked the colonial sugar canes. It was at "Bailes de Bombas" (Bomba Dances) where enslaved Africans celebrated baptisms and marriages, and also planned rebellions. For this reason, these celebrations were only permitted on Sundays and Feast Days. At Bailes the Bomba, the sounds of drums called "barriles," typically made of empty codfish or rum barrels, drew the crowd into a circle. Dancers took turns challenging the drums, creating a dialog with their movements that the solo drummer answered. It is said that women bomba dancers would typically dance with their skirt raised, showing their slips, to ridicule the attire (and fancy slips) worn by plantation ladies.
Home: blackrocklabs
Updated on 6/22/04 at 10:50 p.m.