BlackRock Brazzle Dazzle "Brazzy" WC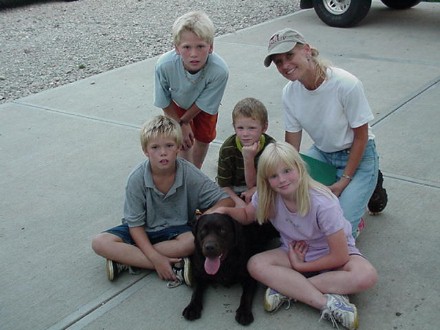 Brazzy was whelped on April 8th, 2000. Brazzy was the lone chocolate girl out of a litter of nine. Brazzy is a wonderful chocolate bitch like her mother and has an incredible drive for the field like her parents. Brazzy loves to show off and desires to be with her family.
Vote for me in Top 50 Labradors Retrievers
Pedigree:
BLACK ROCK BRAZZLE DAZZLE WC SN731892/01
Sire
TWIGS INDIANA BOOMERANG JH SN479335/01 7-00 OFA24G OFEL24 CERF29 BLK (CAN) DNA PROFILE# V32639 boomer
Sire
Int. CH FAWNHAVEN EAGLE OVER CHARDON NA SN249486/01 2-98 OFA24E OFEL24 CHLT
Sire
CH FAWNHAVEN KIVA DWELLER CD JH SN056368/03 8-95 OFA24G OFEL24 BLK
Dam
CH CHELONS BLACKTHORN SNOW SF142860 8-90 OFA27E YLW
Dam
Can CH TWIGS LICORICE TWIST CKC CU208531
Sire
CH CEDARWOOD GUNNER O'FAWNHAVEN CD SH SM903363/05 3-94 OFA24G OFEL24 CERF98 CHLT DNA PROFILE# V35149
Dam
SHOOTER THIRD CKC VL701839
Dam
CEDARWOOD BLACKROCK SEA BREEZE SN580021/05 7-00 CERF13 CHLT
Sire
CH COOK'S MIDNIGHT BANDIT MH SN072258/04 7-96 OFA25F OFEL25 CERF83 BLK DNA PROFILE # V54252
Sire
CH JANWOOD SECRET AGENT CD SF074736 6-90 OFAG BLK
Dam
CH ALVGARDENS MISCHIEF MAKER OF JANROD JH SF530101 9-93 OFA25G OFEL25 CHLT (SWE)
Dam
(CAN) CH CEDARWOOD'S RUTHLESS ROCHELLE CD JH SN078823/03 2-96 OFA36G OFEL36 CHLT
Sire
CH FLYING CLOUD'S TAI-PAN SG042087 3-93 OFA29E BLK
Dam
CH PLANTIERS RUTHLESS RUTHIE CD MH SF646064 8-92 OFA25E OFEL25 CHLT
This pedigree page was built for free at SitStay.com
In the Show Ring:
On 9/16, Brazzy won 1st place at the Central Indiana B-OB Match in the puppy bitch class 4-6 month under Breeder/Judge Mrs. Beth Schmitt.
In the Field:
Brazzy passed the WC under Judge Chris Cornelius at the HLRCInc Hunt Test at Black Rock Farms on 9/8 and the handler was owner Josh Moody.
Brazzy has developed a truely wonderful water entry. Brazzy will be in training for her quest for the LRC WC and the AKC Junior Hunter title.
Brazzy in the field. She retrieved pigeons and ducks at the HLRC Inc WC test on October 7th at 6 months.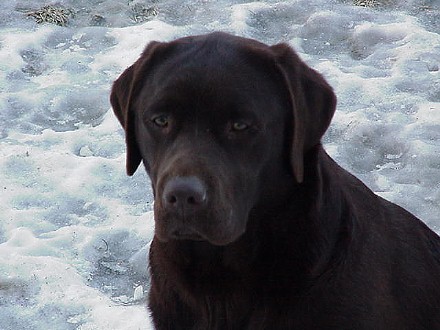 Clearances:
Brazzy's eyes were CERF'd on 11/21/00 #SN73189201, CERF #LR-28235/2000-7.
Blackrock Brazzle Dazzle hips conformation was evaluated as : GOOD O.F.A. Number is LR-126749G28F-PI
Photos:
Brazzy at 7 months in the field: brazzy7
Breezy (mother) and Brazzy at 6months old: BrazzBreezy
Brazzy at 5 months: BrazzleDazzle
Littermates: Brazzy and BeBe at 3.5 months old: brazbebe
Brazzy at 3 weeks old: Brazzy
Brazzy at 8 weeks: chogirrear
---
Updated: 9/9/02 at 10:00 p.m.