Whelped: April 8, 2000
Breezy X Boomer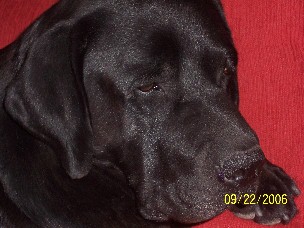 Black Rock Emma1202 - She is doing well and enjoying life. She brings us much joy. She loves the snow and looks forward to a romp. She goes everywhere with us and is a great traveler. Bernice & Pat.
12/25/05, Emma is doing well at five years old and looking forward to all of her gifts under the tree. She still loves toys that squeak and is very gentle with them. Her toy box, which is pretty full, will have a few more toys this year. She loves to open gifts, even ones that belong to others. She now shares Christmas with two cats that have adopted us over the past two years. One was a stray and the other one was one day short of going to a shelter. Emma has accepted the cats very nicely. Emma and the two cats sleep on my bed at night. Have a Blessed and Merry Christmas and a wonderful New Year.
1/13/04
Hi Dale and Linda, Happy New Year to you. I hope that your holidays were blessed and peaceful. Glad to see that all is well at Black Rock. Looks like you have been pretty busy with shows over the past year. Congratulations on your many successes. We are pleased to see that Bravo has done so well. I am sure that Emma would send her congratulations to her good buddy. We really enjoy seeing all of the pictures, especially the puppies. Hopefully one day I will become savvy enough with the computer to send you one of Emma. Emma is doing very well. She is almost four and has "grown up" --only as labs can grow up--to be a beautiful girl. At Christmas she received the most gifts. I think people just enjoy watching her open her presents so everyone that comes over brings something for her. What makes it fun is that she really plays with her toys. She takes such delight in birthdays and Christmas because she thinks every gift is for her. Although I bought her yet one more dog bed for Christmas, she still prefers the couch. Each bed is bigger and better than the one before so I think I will start sleeping in them. Anyway she seems to have taken to this last one which, I much say, is quite nice. She really has a great personality and is a wonderful traveling companion. She can travel with me in the car all day and not make a sound. As long as she goes along she is happy as a clam in her crate. We do watch the temps. however so sometimes she has to remain home and is not very happy about that. She is enjoying the winter and loves running through the snow. I, on the other hand cannot wait for spring. Despite the snow we dress up and trek through the parks while she hunts for a variety to sticks, etc., to carry as she goes. How is Breezy and Boomer? I do hope they are doing well.Well, better get going. Just wanted you to know that Emma is happy, healthy, doing well, and sends greetings. Hope all continues to go well for you, Linda, and all the labs. Will be in touch soon. Let us know if you are in the area for a show. We would enjoy seeing you again. Bernie and Pat from Painesville, Ohio
Baileyfamily at 8 weeks - chocolate boy, 8/25/02 Update: Thought we would drop a short line to update you. Cathy, Spencer(our 2 year old) and Bailey are living in Tennessee just outside of Nashville. Bailey has a huge yard to chase Spencer around in and gather sticks. The two of them have become best of pals. Bailey is such a smart dog and a joy to have in our family. All of the neighbor hood kids think he is the greatest. We can't thank you enough for bringing him into our lives. He travels with us everywhere and even thinks he rules the roost. The truth be known, he and Spencer do...Cathy and I are just here to feed them. Any time we are out with Bailey, people comment on how pretty he is and that he doesn't look like other labs they've seen. Of course we puff up and tell them all about Blackrock. We keep track of your web sight often and see that things are going great. Cathy is trying to talk her self into another puppy. We would really like to have a yellow sister for Bailey. He loves to run/swim/etc with my fathers dog when we visit. Not sure we are ready for a second yet as Cathy is due with our second son in September. But.....don't be surprised to hear from us in the spring to reserve a yellow female. I remember how backed up you were with clients, should we put our name on your waiting list now or wait? We look forward to hearing form you soon. Regards, Chris & Cathy
Cindy & Annie - puppybond at 8 weeks old
Black Rocks Midnight Rose "Rosie Hi Dale and Linda, Just a quick note to let you know Blackrocks Midnight Rose "Rosie " earned her Intermediate Working Certificate today at the Miami Valley Trial. One of your club members were there and said she looks just like Boomer. Rosie is a true joy and born retriever. Keep in touch. Regards, John and Sherry Federle
Hi Dale and Linda, It has been a while since we talked to you. Hope everything is well there at Blackrock. It has been exciting here. Rosie's hips and elbows came back as good from the OFA so we had her artificially inseminated with the frozen semen of a dog we had purchased in 1981 from Hennings Mill. His name was Calypso's Shadow after his sire Ch. Hampshires Calypso. His grand sire,on that side, was Eng. Ch. Sandylands Newinn Columbus and his grand sire was Eng. Ch. Sandylands Mark. His dam was Jollymuff Ms. Mark, grand sire on that side was Ch. Sandylands Markwell of Lockerbie and grand sire was Eng. Ch. Sandylands Mark. On Monday July 22, 2002 Rosie delivered 8 beautiful pups, 3 black males,3 black females and 2 chocolate females. The pups weighed between 14 and 16 oz. Everyone is doing great. I believe a friend of mine has contacted you. His name is Rob New. He has been sooo impressed with Rosie and said he wanted a lab just like her only yellow. I told him the best place to get that was at Black Rock. He will provide a great home for one of your pups. Well that is about all our news. Hope to hear from you soon. John and Sherry Federle
Ember's registered name is BLACKROCK DOCKTER'S SWEET E - Ember at 4 months old. 4/22/01: Just wanted to let you know Ember and I attended our first UKC HRC test this weekend and she passed both days. Yeah Ember. There is a big jump from the started to the seasoned so we will try for our JH title next while we train to move up to seasoned. I'm sure we will see each other this summer. Hope everything is well with you, Dale and all the KIDS.
7/3/02 Winnebago was a success. SHR BLACKROCK DOCKTER'S SWEET E CD TDI CGC Ember pass the TDI test Friday. She also received a 191 for her third leg of her CD title.I'm sending some pictures.
Just wanted to let you know Ember (Boomer X Breezy) received her JH title at the Fox Valley Retriever test on the 15th of July 2002. We have one more Leg for her UKC HR title and then we will be done for the year. We will try Seniors and Finished next year. Say hello to Breezy and Boomer from Ember. Thanks for your help.
Hi Linda and Dale, Just wanted to let you know that Ember received her Ukc HR title this weekend. We are done for the year. Hope everything is going well with your new pups. Ginger
9/23/03 Hi Linda and Dale, Ember and I have been busy these last couple weeks. We went to our first Agility trial and qualified with a fist place in novice jumpers and weaves and a second in novice standard. Ember also received her UKC UCD title with a score of 197 1/2 and first place. Hope thing are well with you and all the kids =) Ginger
12/30/03
Hi Linda & Dale, Hope you guys had a wonderful Christmas.I just wanted to let you know Ember finished her novice agility title (NA) with perfect scores and with two seconds and a first . We also finished her novice agility jumpers title (NAJ) with perfect scores and two firsts and a third. What a blast. She is starting to look very pregnant. I cant wait to get her x-ray done ..I'm so impatient. I'll let you know what she has. Happy new year!! Ginger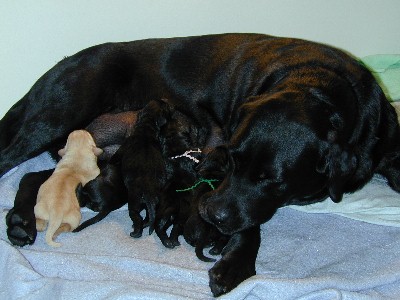 1/17/04 (Ember with puppies Breezy X Boomer - daughter)
The family has arrived!One yellow female, three black females, one black male. Ember and family are doing great. Ginger.
Delphi with Devon and Brandon: Delphi9West Lafayette, IN.
Updated 12/25/05 at 11:57 p.m.