Litter of chocolates Breezy X Brody.
3/24/04.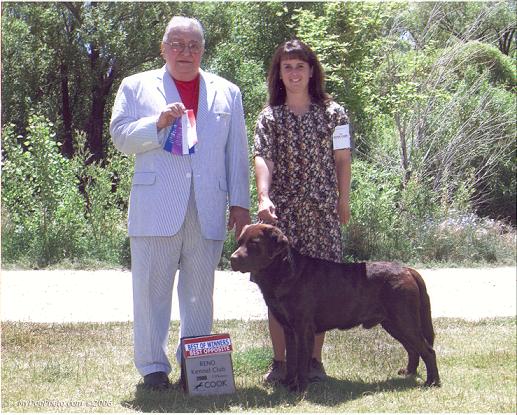 BlackRock I've Got the Power - Tuff
TuffandFamily Megan, Marcie, Sherri, and Travis - Mirage Labradors - Dayton, Nevada
Steven & Carl Roth and Andrew Evans - Poughkeepsie, NY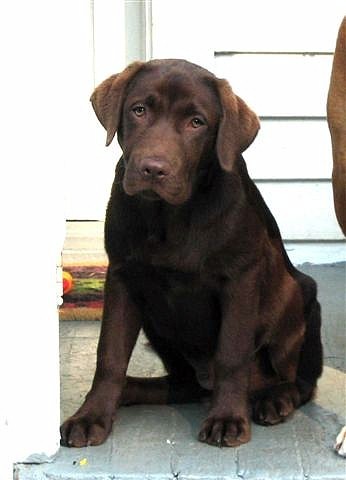 Hi Dale & Linda, Steve is going to be 6 months old this week - how time flies.We are getting an ice-cream cake for the celebration. - Steve LOVES ice cream! He is more wonderful everyday. He and Jonathan are the best of friends, they do everything together with the exception of gardening. Steve is a digger and loves to go out in the yard with me and 'help'. Although he has decided that the one half of the yard is mine and the front half is his. I think he is really going to enjoy the snow! He has gotten allot more cuddly in the past two weeks, with the cooler weather, which we really like. I think his favorite thing, (other than eating and playing with Jonathan) is his morning massage sessions. After his breakfast every morning, he lays on the kitchen rug and we do a 20 minute massage - you can see allot of Breezy in him when it comes to belly rubs.He is doing very well in school and is really good on lead. He is really good in every area - he has always been such an easy pup, very sweet and tolerant, nothing seams to bother him. We are looking forward to getting he and Jonathan Halloween costumes, we are thinking possibly 'Batman & Robin' - I think it is very fitting for this pair. We will send a photo when we find the right ones.Everything else is going well. We hope you and the gang are doing great and again, thank you for this wonderful little guy - he is really the best!-Carl, Andy, Jonathan & Steve
8/1/04 Hi Dale and Linda, Steve is now 18 wks old, 43 lbs, he has a beautiful thick coat; the most courageous shad of chocolate, his eyes are a golden-green. His head is beautiful, he looks to be a wonderful combination of both Breezy and Brody. Last week he lost his first 8 teeth - all on the same day - the new ones are growing in nice and straight so far. He is truly an amazingly beautiful pup! He goes everywhere with me, to work, malls, stores, walks in town, - everywhere. Last week I put a guide dog jacket on him and we went out to dinner - he was fantastic! The couple at the table next to us, (with the 3 screaming toddlers) did not even know Steve was there. On the way out they asked if we could train their children to be as well mannered as Steve. I told them its not the training - its the breeding! His obedience is right on target - he knows sit, down, stay, come - walks with a loose lead and eliminates on command. Now that the basics are done we are going to start on some of the fun training games. I think his favorite thing is massage - he has a 30minute massage every morning after his breakfast and he just moans with delight. He and Jonathan are best friends, they play so wonderfully together. You should see them share the same bone - each chewing opposite ends. It is really great how well he is turning out, we could not have asked for a more perfect puppy. I hope you and all your gang are well - please give Breezy a kiss and a belly rub for us. Thank you for everything, Carl, Andrew, Jonathan & Steve
6/19/04 Hi Dale and Linda,Steve is now 12wks, 3 days. He went for his rabies and other vaccines this week - he is in tip-top shape. Weighs 27.5 lbs and the vet asked me to increase his food by 1/2 cup a day. He is doing great in all areas.Obedience is going very well, knows his name, sit and waits for his food. Waits for cookies without mouthing and takes it from hand gently. He is housebroken, (he only had 3 accidents ever) and will signal by whining and going to the door. He still walks great on lead, loves his walks, he goes about 2 miles a day now. He is going up stairs like a champ but still will not go down - not even one step - that's Okay - we love carrying him. He is going to work with me 3 days a week and he loves it - he rides great in the car - staying on the passenger side floor. Everyone at work LOVES him - he is quite the sensation surrounded by 61 other labs but he is the only chocolate. He has playmates at work who are 2 weeks older than he, but he is bigger and they love to play and go swimming in the kiddy pools.He is so calm and sweet, we could not have asked for a more perfect puppy. He and Jonathan are also good friends now and Jonathan allows Steve to crawl all over him. They also play tug-O-war in the back yard. Jonathan usually lets Steve win - it is very cute to see Jonathan being so gentle and loving to his little brother. I hope all is well with you and your bunch, Thank you again for everything - we love Steve more everyday.-Carl, Andrew, Jonathan & Steve
5/21/04 Dear Dale & Linda; We can not thank you enough; Steve IS the perfect puppy! He is so calm, mellow and sweet, loves to be carried and follows us from room to room. His temperament is terrific, he is exactly what we had wished for. Thank you, Dale for picking such a great pup for us. We had a long ride home - 16 hours in the car and not one accident or crying, he slept, played with his toys and gave lots of kisses. By the time we got home we knew he was perfect! He loves his big brother Jonathan and likes to follow behind him while nipping at his tail. Jonathan ignores him , for the most part, but I'm sure they will be good friends once Steve gets a little bigger. The first night while we were all in the family room, Jonathan fell asleep on the rug, Steve went over and cuddled up with him and Johnny put his head over Steve - it was beautiful to see. Steve is unbelievable at walking on lead. He walks a straight line pattern and stays to the left with little distraction - amazing for a pup this young. Housebreaking is going very well, as is his massage sessions which he LOVES. Still getting up at 3:30am every night but last night he went right back into the crate and fell asleep without incident. Socialization is going well - he has met many new people of all ages, went to Home Depot yesterday afternoon for 5 minutes, and he loves the car rides. Yesterday, I tried to get some gardening done and Steve came out to 'help'. Linda, your were right - the tulips didn't have a chance. But that's Okay - Steve is more beautiful than any flower in the garden. Tomorrow he is going to the vet for checkup and 8 wk vaccinations. We feel so blessed to have this very special puppy in our lives and we are very grateful to you both for all the time you spent with us on Sunday. Thank you for everything. -Carl, Andrew, Jonathan & Steve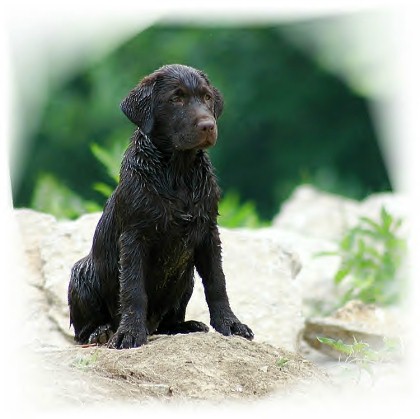 Libertycrk Blkrock casenpoint "Kasey" TylerBetty & Betty Baker - Zionsville, IN - Liberty Creek Labradors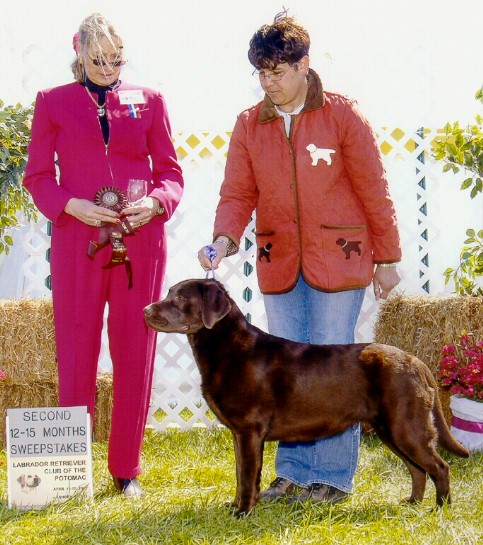 KissGayle51504 & Gayle Abrams (Candy Acres Labradors) - Rehoboth, MA
8/8/04 Hey guys, I just finally got this film back, and here is Kiss, AKA Casey, at 3 months old, she was playing in puppy K and struck this awesome self stack. The puppy behind her is a month older, but field bred, what a difference. I tried to isolate just her in the picture, but my software does not have that option, looks like I need to try another picture maker program. I hope you like the picture, I surely love the puppy! We have started basic obedience, twice a week, and we go to a breed handling class once a week. She is doing very well in both. Everyone that meets her says I should have named her Sable, her coat is such a rich dark brown. She is just beautiful. Gayle Abrams, Candy Acres Labradors, Rehoboth MA
11/08/04
Just a quick note, to let you know that Casey had a big day on Saturday. She is doing excellent in her obedience class, watching her makes everyone in the class strive to have their dog as well trained at some point, and she has been going for a lot less time than some of these dogs.
Then in the afternoon we went back to school and she had her eyes CERF'd, she is clear! Then in the evening, we went back AGAIN, and she passed her CGC with flying colors. So at the tender age of 7 months, she is now Blackrock Candy Kiss of Candy Acres CGC. The evaluator could not believe that she was just 7 months old, she said it makes her want a Lab to see my dogs work. She was just stunned to find out that she was so young. I am having a wonderful time training this wonderful puppy, thank you for the opportunity to own her. We will let you know how things go at the shows in a couple of weeks. Later,Gayle Abrams, Candy Acres Labradors, Rehoboth MA
Recently Casey got the Reserve Winners Bitch, and Best Puppy. She is really doing very well, she got two firsts, a second and a third in Boston last weekend. We are done showing until mid January now, so she is back in Obedience training. I am going to try to get my scanner working so I can forward the professional picture to you. Gayle Abrams, Candy Acres Labradors, Rehoboth MA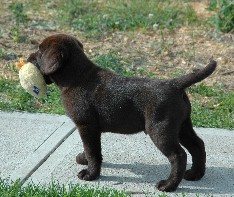 Black Rock's Come Chase Me
Otis51504 & Desmond Family - Carmel, IN
Biscut51404 & Taylor Family - Carmel, IN
7/9/04 Dale and Linda,Just wanted to update you on Biscuit. We were hoping that Claire would write you a letter but that hasn't happened yet so you get me.Claire and Kyle are doing really well with the dogs. Kyle and Claire have given the dogs nicknames. Biscuit is "Wags" because her tail is constantly wagging. Her Italian name is "Biscotto" for no particular reason other than it sounds like Biscuit. Kyle really works on training and does a very good job. Claire likes to play with the dogs, take them on walks and cuddle with them. They are not always ready to cuddle but when they are Claire is there. Today Bailey and Biscuit finished all their shots at Dr. McDavitt's. She thinks they are doing great. Biscuit is developing differently than Bailey both physically and emotionally. Bailey has a taller and leaner build. She is more of an even temperament than Bailey, which is good given that Bailey can go hyper every once in a while. Both of the dogs like to have their stomachs rubbed. We call this, "paws up tummy rub." Today out on our walk we met two ladies who just couldn't get over how beautiful Biscuit is and how well behaved --- she sat right down when they approached. Biscuit holds the record on housetraining --- only one accident in the house so far! As you can see, the dogs are coming along and making progress. They obey more reliably and are going longer between needing to go outside. The longer we have them and the more stories we hear about other dogs the more it confirms our belief that you do a really good job with your dogs. We are very happy we were able to get our Bailey and Biscuit from you. We will be in touch. Thanks for everything, Kirk Taylor
Puppies at 5 weeks old: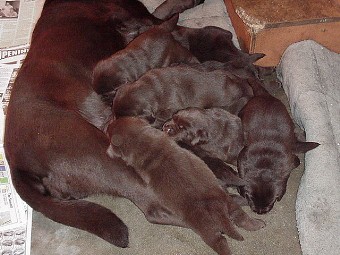 Home: blackrocklabs
Updated 6/30/06 at 1:30 a.m