Whelped: November 12, 2002
Breezy X Bru
6 males and 3 females.
Kyle Richards and his chocolate boy KyleBru- Lebanon, In.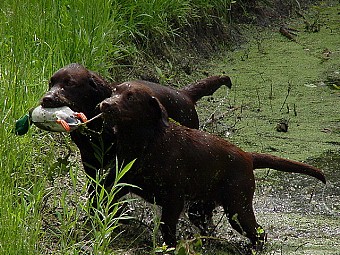 Belmont and Beemer retrieving at 6 months.
Lindsey with Black Rock Belmont,
Bradley with Black Rock Beemer.
Craig & Mindy Swanson with Eli EliSwansons1403- Leo, IN.
Linda and Dale, EliSwanson is doing very well and has adapted to his new home. He was the hit of the Vet clinic when we took him in for his new puppy checkup. We are attending puppy class at the St. Joseph Veterinary Hospital in Fort Wayne. Eli is very social. During the first night's playtime, he trotted right out to play with bigger dogs. He is dominant and fearless, but without aggression. You were right on in your assessment, he believes that he is the top dog. Mindy and I are overjoyed with this pup. I have attached a photo of Eli from this morning bookend-012503. His eyes have turned brown and his rough outer coat is coming in nicely. Thank you for your attention and care for these pups, Craig Swanson
Sean & Bernadette Reidy with Basil Basil1103 Southbend, IN.
Becky Davis of OleWell Labradors with her Fudge123102 - Martinsville, IN.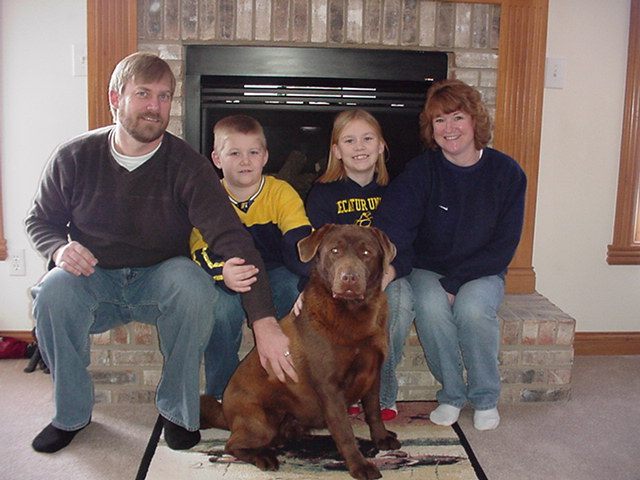 Bodie with Michael, Ginger and family with Bodie on 1/16/05
Black Rock Beemer and Black Rock Belmont at 6 weeks old. BeemerBelmont122502
Puppies sleeping at 39 days old. BreBruboys122102
bruson - Breezy X Bru pup 17 days old
Pups 5 days old: BreBrupups
Updated 1/15/07 at 7:00 p.m