Retired
Tornado "Exodus" Out Of Egypt WC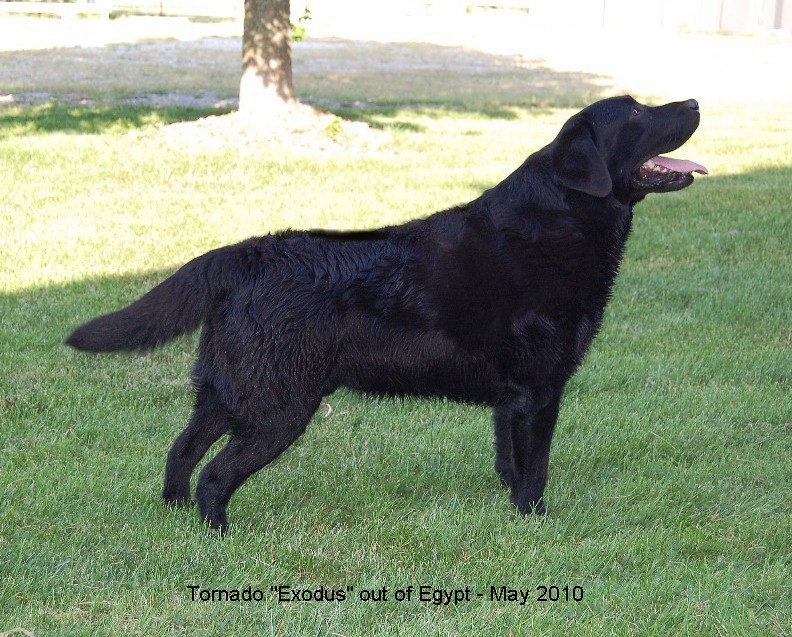 Exodus was whelped on November 4, 2004 by Tornado Kennels. He has beautiful head and expression, correct double coat, strong bone, muscular front and rear movement. Exodus has an outgoing personality, athletic and powerful retriever.
Exodus is retired and owned and living with Jack and Sydney Easley in Shelbyville, Ky.
Clearances: OFA "Excellent * Elbows Normal * OFA Heart Cleared * Optigen Normal/Clear * Eyes CERF'd annually * EIC Carrier* Full Dentition
Clearances:
On 4/24/07, Exodus was examined by OFA, based upon the radiographs submitted the consensus was that no evidence of hip dysplasia was recognized. Exodus was determined to have Excellent Hip conformation (LR-167056E28M-PI) and based upon the radiographs submitted the consensus was that no evidence of elbow dysplasia was recognized, normal elbows (LR-EL34747M28-PI).
DNA Test Report June 13, 2007, Registered Name: Tornado Exodus Out of Egypt, Registration #: SR21616001, Tattoo/Chip #: 473B4F4311, Call Name: Ex, Breed: Labrador Retriever Date of Birth: November 04, 2004, Gender: Male, Optigen Accession #: 07-5239, Test Performed: prcd Mutation Test for PRA, Sample Type: Blood Test Results: Genotype of your dog is Normal/Clear. Risk for developing prcd-PRA: This dog will never develop the prcd form of PRA (progressive rod-cone degeneration form of Progressive Retinal Atrophy).
CERF Annually:
On 5/21/10, Exodus was examined by Dr. Sheryl Krohne, DMV, MS, DACVO, Tippecanoe Animal Eye Specialist to be free from hereditary eye diseases. (Copy of examine upon request)
On 7/30/07, Exodus was examined by a Cardiologist at the Veterinary Specialty Center, LLC by Dr. Robert Sandards. Exodus is clear. OFA (Normal-Cardiologist, Echo) LR-CA2628/32M/C-PI.
DNA Profile #: V591301
Tornado Exodus Out Of Egypt SR21616001
Sire

BISS Ch. Cressmoor's Iron Oxen - "Ox" SN74747401, OFA LR-124329G24M-PI, LR-EL16126M24-PI CERF annually, Optigen A1 (clear/normal) Heart OFA LR-CA2006/71M/P-PI-ECHO Cressmoorlabs - Boys

Sire
EPOCH'S EDWARD OF BONAVENTURE w. 7/11/98 Hips OFA good/ Elbows clear, eyes cleared annually chocolate Eddie


Sire
Keepsakes Beau Webster, OFA good, elbows clear, chocolate Beau
Dam
Banner's Apple Butter, chocolate
Dam

Honorbright Cressmoor Vixen - "Vixen" (Ch. Guidelines Century Condensed x Huntcrest Sultry Blond) DOB 6/18/97 Girls retired

Sire


Ch Guideline's Century Condensed, black, (Swe)

Dam
Huntcrest Sultry Blonde, yellow
Dam

STARQUEST IMPERIAL TOMMYGIRL "Tommy" SN89233405, OFA good, elbows clear, CERF'd annually/Cc

Sire
NZ. INT'L. CH. Croftsway Old Man River, CGC (BC) Hips: 1:1 (Equiv to Excellent) - Elbows: 0:0 (Clear) Optigen A, eye cerf normal, Cardiac: R-CA1307/64M/C-PI/Normal (Cardiologist) black Tom Tom

Sire

ENG.CH.Cambremer Tom Cobbley of Charway Tom Cobbley

Dam

Croftsway Xpress Bug (NZL) black

Dam

Beulahlands Imperial Elegance, black Girls - retired


Sire
Mika's Mountain Man Of Penara, OFA good, black Retirees
Dam

Countrysides Burning Bridges, chocolate

This pedigree page was built for free at SitStay.com
Show: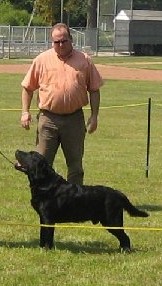 On 8/23, Exodus won open dog class at the HLRCInc B-Match under Judge Steve Kirschner of Big Sky Labradors Big Sky Labradors.

In the Field: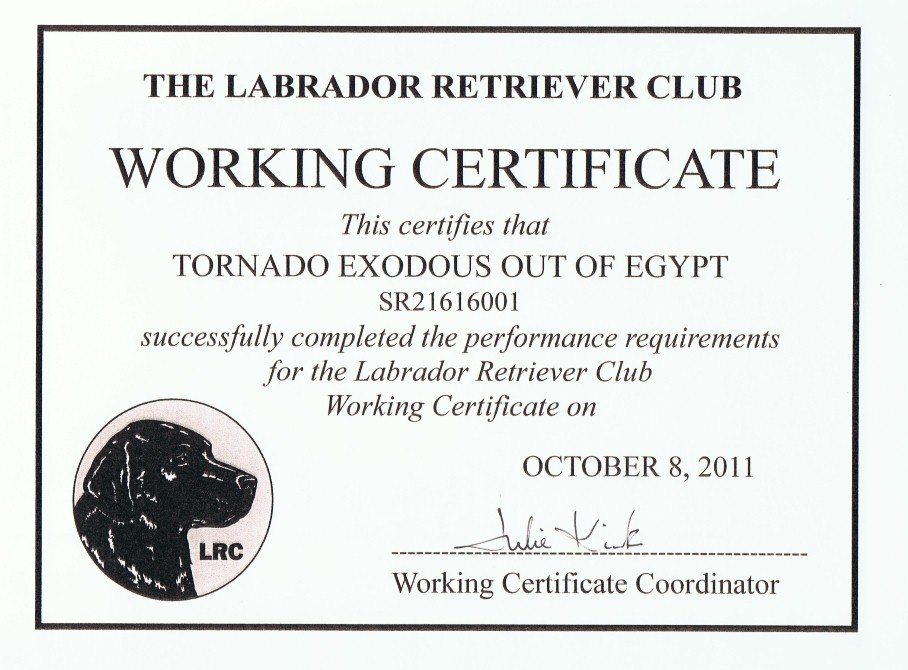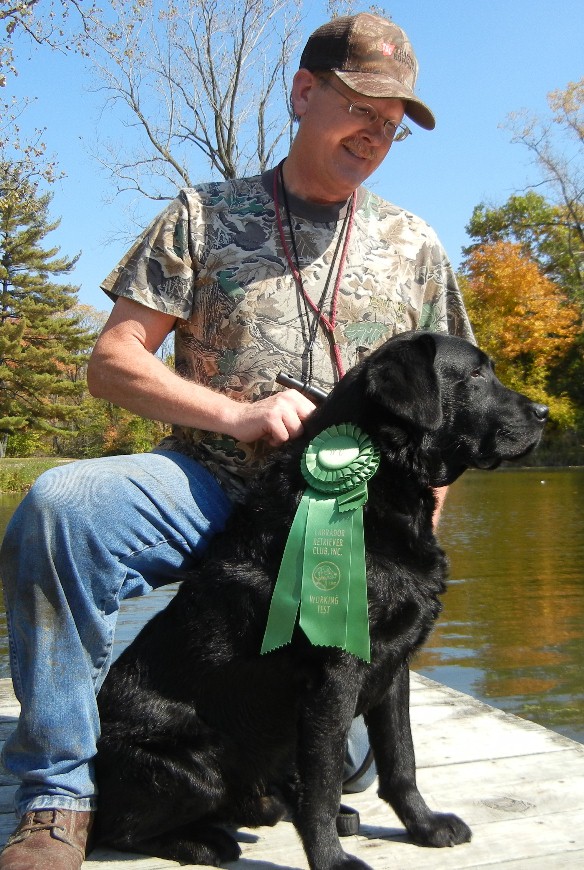 On 10/8/11, Exodus passes the HLRC Inc Working Certificate (What is a WC?) test judged by Chris Cornelius, AKC Judge # ZG514 at the Cass County Izaak Walton League, Logansport, IN.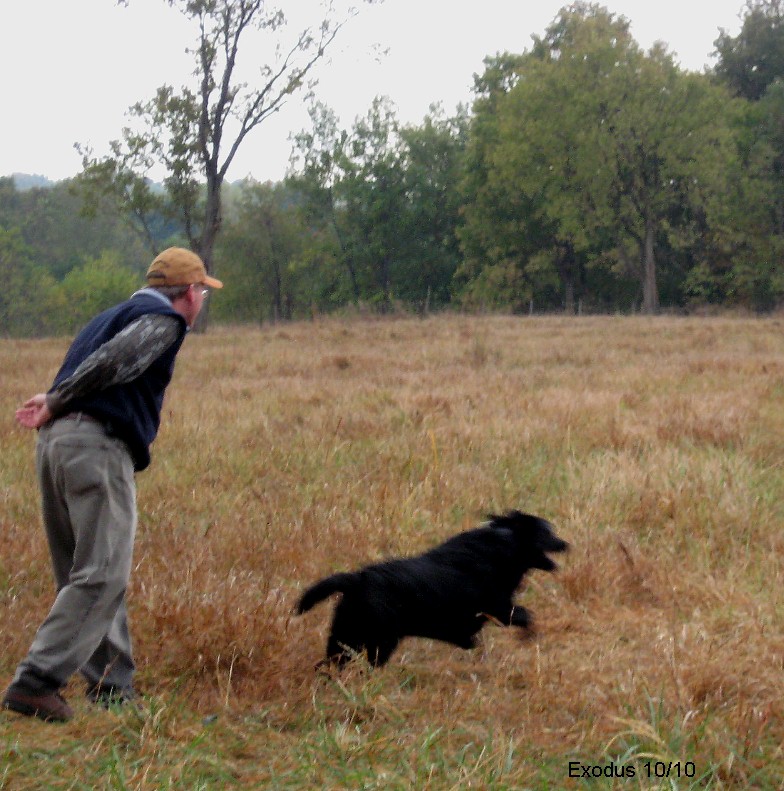 ---
Exodus growing up: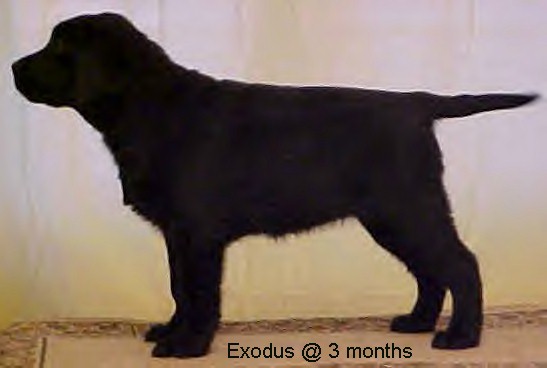 Exodus Offspring: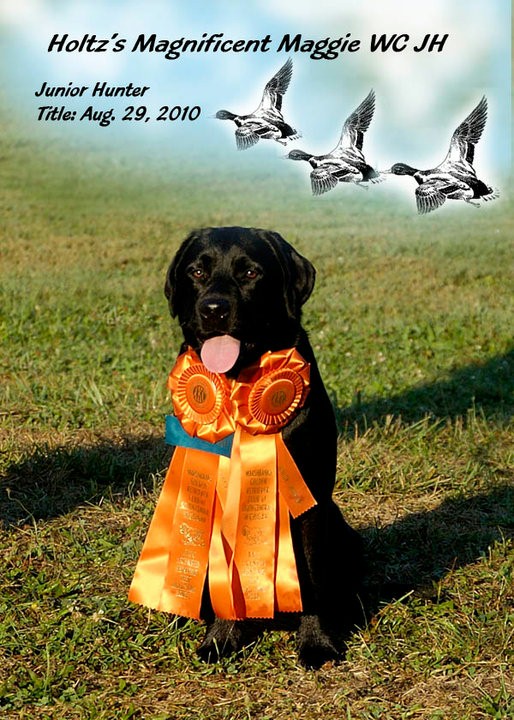 8/29/10: Jolene McAllister Holtz - Returned from a nice HOT weekend in Michigan and Maggie earned her Junior Hunter Title... :-)) I am so proud of her !!!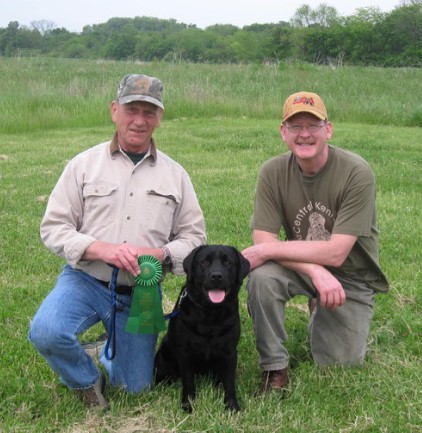 Holtz's Magnificent Maggie JH WC
(Tornado Exodus Out Of Egypt X Chestnuts Roasted Rosebud)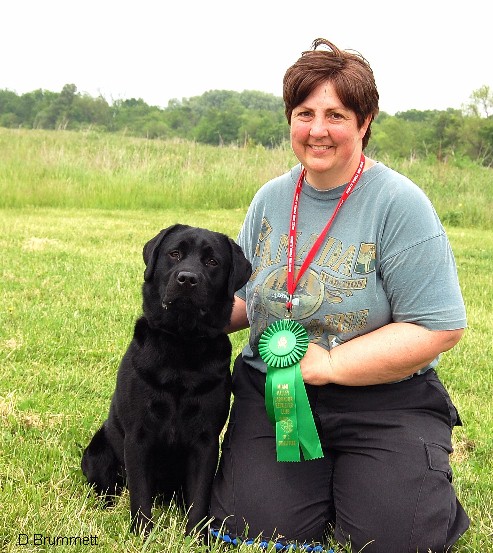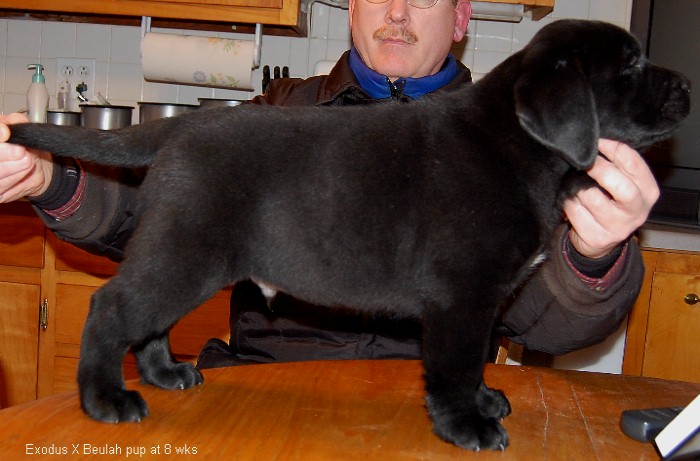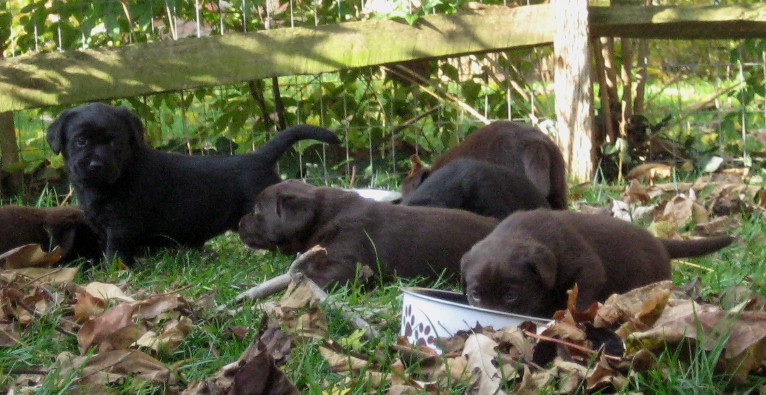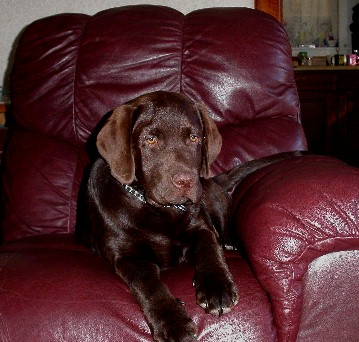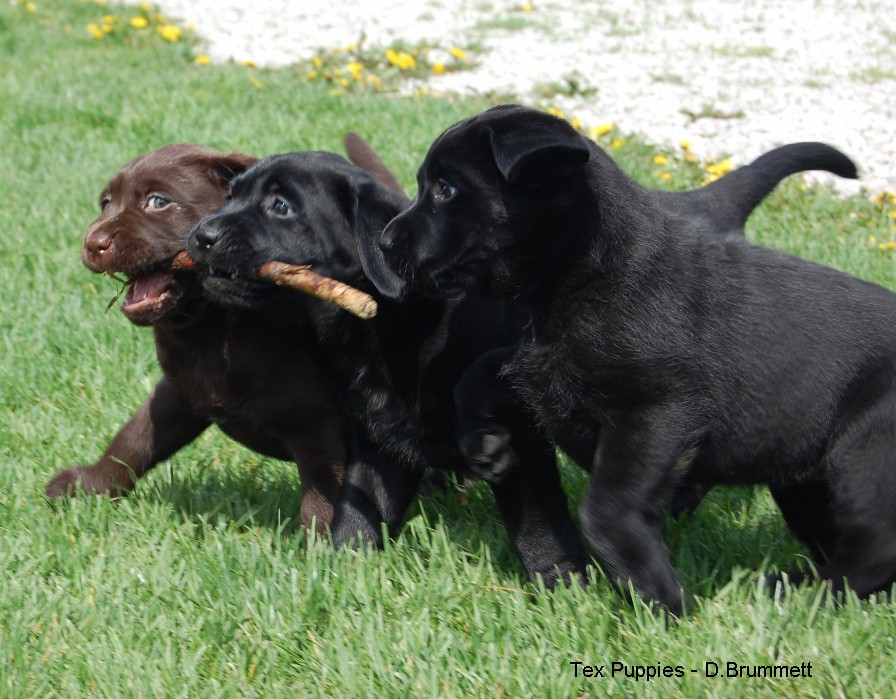 Your boy Exodus gives such nice babies complete with Great Temperament, quick to learn (very smart), retrieving drive,
coat, nice dark pigment, bone, thick otter tails and beautiful heads.
Thank you again!
Jolene Holtz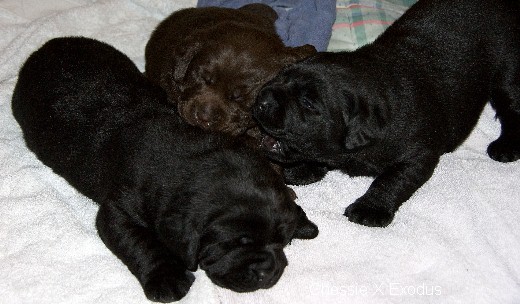 Chestnut's Roasted Rosebud (OFA Good, Elbows Clear, Cerf'd) X Tornado "Exodus" Out Of Egypt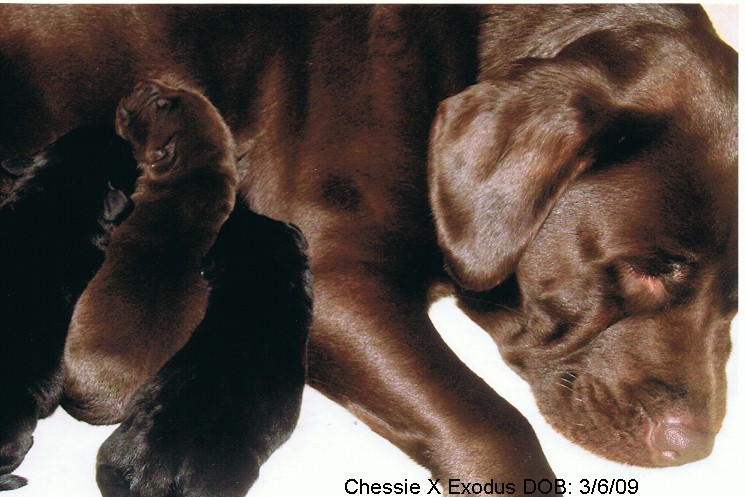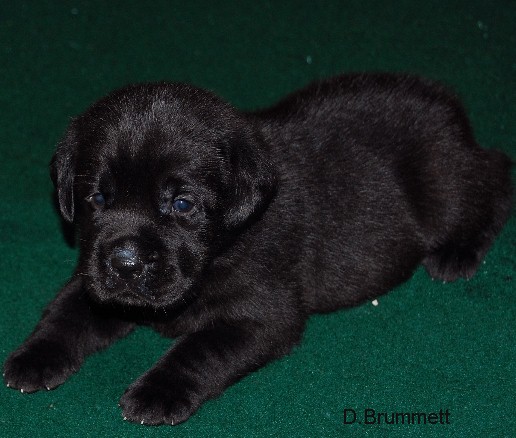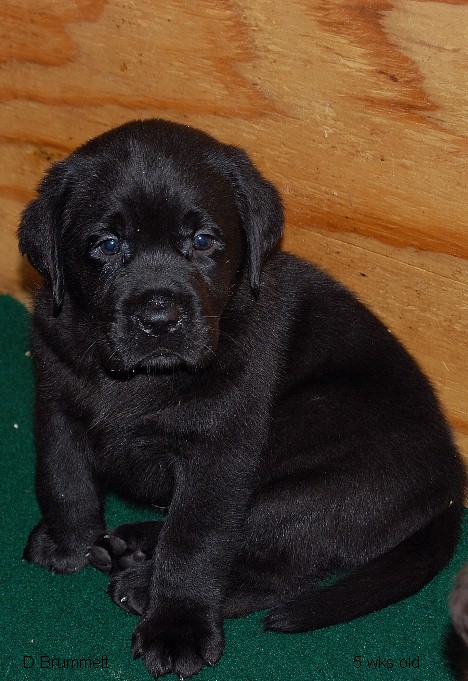 Black Rock Labradors, Indiana, USA
Updated on 4/5/13 at 10:07 p.m.