Black Rock Labradors
presents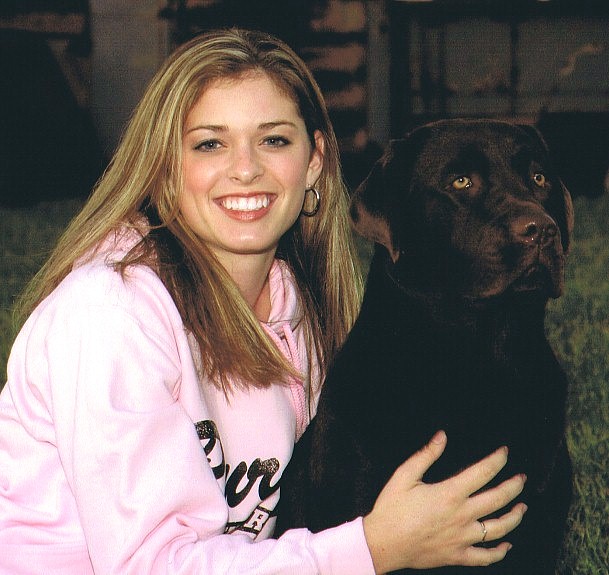 Black Rock Touch Of Grace CD"Gracie"
Gracie was whelped on October 23, 2006 by (Dock X Belmont). Gracie's litter was 3 girls and 3 boys. She is a driven retriever and has an outstanding head, expression, thick double coat, great balanced movement, perfect topline and has a lovable temperament. Gracie is full of life and loves people. She is owned by Erin King.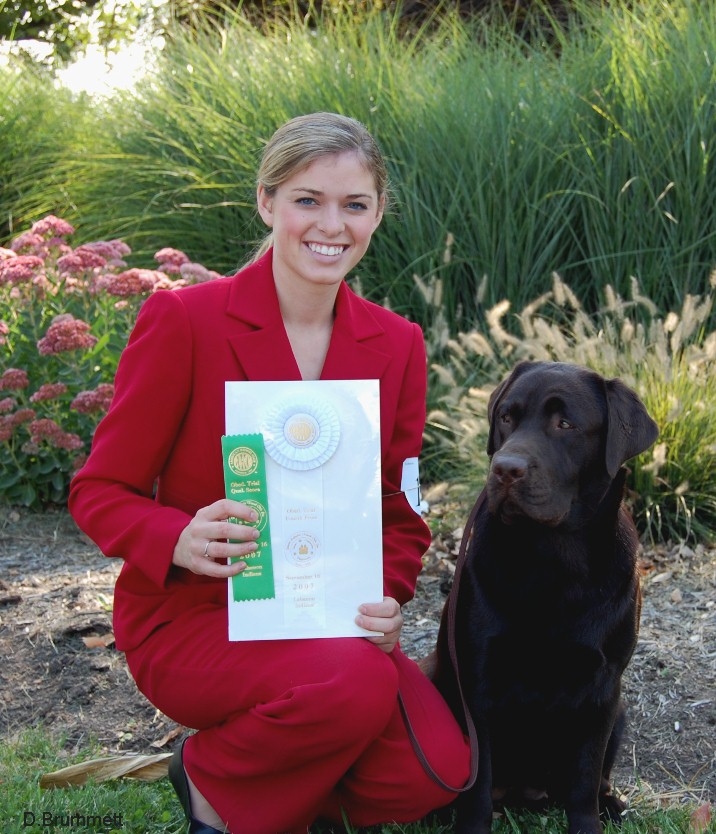 Pedigree of Black Rock Touch Of Grace "Gracie" SR37702303
Sire:

OFA Prelim Good, elbows, Optigen Clear, Heart clear, AKC Pointed CHLT

Sire: NZ. INT'L. CH. Croftsway Old Man River, CGC (BC) Hips: 1:1 (Equiv to Excellent) - Elbows: 0:0 (Clear) Optigen A, eye cerf normal, Cardiac: LR-CA1307/64M/C-PI/Normal (Cardiologist) BLK
Sire: ENG.CH.Cambremer Tom Cobbley of Charway
Dam: Croftsway Xpress Bug (Exp. USA)

Dam: Gregoires Very Berry (C) OFA Good Hips/ OFA normal elbows , eye cerf normal CHLT

Epoch Edward of Bonaventure OFA Good and elbows clear Eddie CHLT
Dam: Gregoires Nugget Delight OFA good CHLT
Dam:

OFA Good, elbows, Optigen Clear, AKC Major Pointed CHLT

Sire: Ch Caven's Coca-Mo Brute SN501709/02 dob: 11-12-97 Hips OFA Good Elbows- Brute CHLT
Sire: Ch Lindall A Bit of the Action Hips OFA-Good Eyes-CERF'D CLEAR 12/99 DOB 3-7-91 Bru BLK
Dam: Ceasars Creek's Cassandra
Dam: Ch Cedarwood BlackRock Sea Breeze WC CGC SN580021/05, OFA Excellent, Elbows clear, Eye Cerf. CHLT
Sire BIS, GMHR, Int. (FCI), Am. & Mex. Ch Cook's Midnight Bandit MH, TT CH Cook's Midnight Bandit MH SN072258/04 7-96 OFA Good OFEL25 CERF65 BLK
Dam: Can CH Cedarwood's Ruthless Rochelle CD JH SN078823/03 2-96 OFA36G OFEL36 CERF61 CHLT
Headline News:
2008
* County
-Champion Open Senior showmanship: Score 199/200
-Master Showman
-Champion 3A Obedience: Score 196/200
-4th overall Obedience (about 80 dogs)
-Intermediate B Agility champion: Score 199/200
-Gracie tied for Reserve Champion in Rally, but then lost the run-off: Score 98/100 <<<probably don't want to put that on website. LOL
-Senior Groomsmanship Champion
*****Highes Overall Combined Score (obedience, showmanship, groomsmanship, herdsmanship, sportsmanship)
*State
-11th place 3A Obedience: 41 exibitors in class
-11th place in Intermediate B Agility: about 70 in class
- 4th place in Senior Showmanship: 100+ exibitors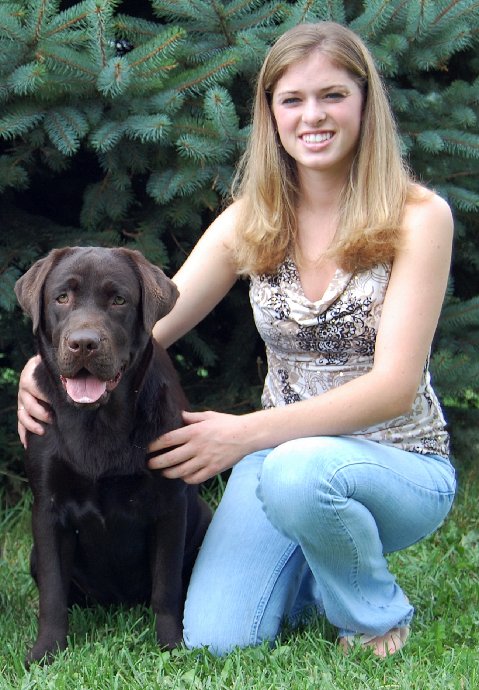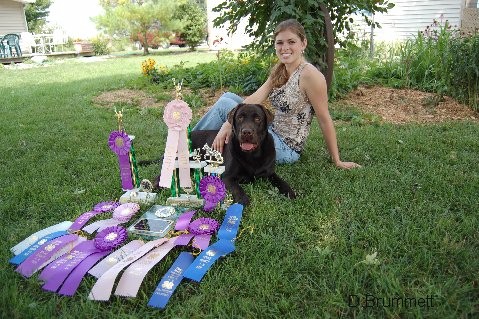 7/16/07 Lebanon — The first 2007 Boone County 4-H Fair animal competition started off with a bark. Boone County's finest canines and their owners competed Saturday afternoon in the4-H dog show. More than 60 entrants competed for top honors. Dog obedience and showmanship were put to the test for several hours and project leader Stephanie Mackey said she was impressed with the very stiff competition this year. "It was a tough competition this time around," Mackey said. "The turnout and those involved were very good." The entrants were so good, in fact, that the overall obedience winner and her dog scored a perfect 200. Ellia Aguayo, 9, of Lebanon, and her Shetland sheepdog, Kenzie, won grand championship for obedience. Aguayo said she was quite pleased with how well she and her dog worked Saturday. "I'm very happy with how we did today," Aguayo said. "The competition was really tough." However obedience was not the only thing awarded in Saturday's competition. Taking the master showmanship title this year was Erin King, 18, of Kirklin, and her Labrador retriever, Gracie. King said being announced as top showman was a real honor for her and is happy that her bond with her dog came through. "It's a rewarding experience," King said. "I'm very excited we did so well."
---
Show/Obedience:
2007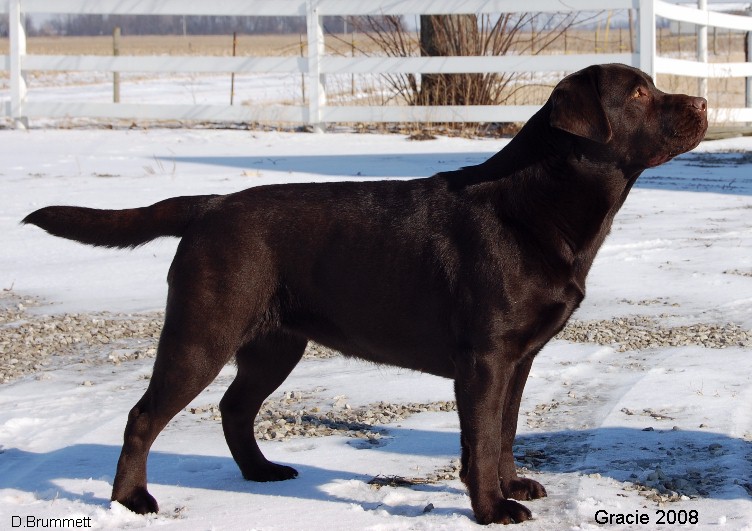 On 9/15 and 9/16, Gracie qualified for 2 legs of 3 towards of her CD title at the Greater Lafayette Kennel Club show at the Boone County Fairgrounds, Lebanon, In.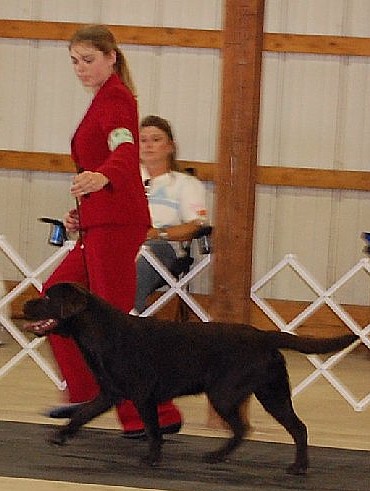 Gracie received a perfect score under Judge Connie Jackson handled by Erin King in 4-H showmanship. She is the Champion of the Open Senior division, first overall, and Master Showman with a score of 200 out of 200.
I am very pleased with her performance. In obedience class, she received first place and Reserve Champion in her division. She was competing against dogs that have been showing for one year or more. I feel this was a great accomplishment.Take Care, Erin
More Puppy Photos: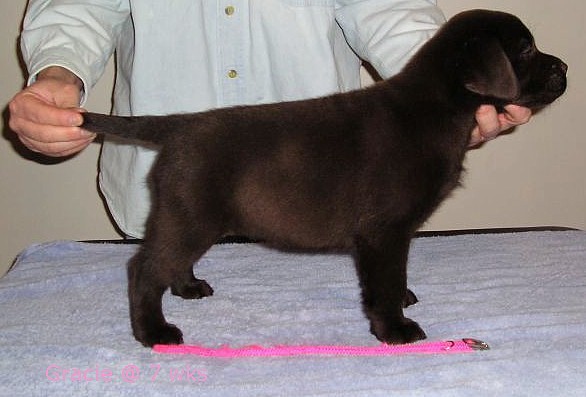 ---
Updated 2/14/09 at 1:50 p.m.