Twigs Indiana Boomerang JH, WCX, CGC, WC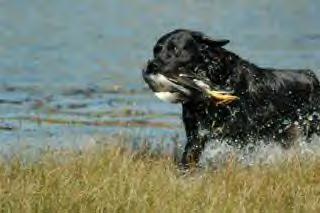 Boomer (Byc) was whelped on May 13, 1997 in British Columbia, Canada. Boomer came out of a tri-colored litter. His mother is black and his father is chocolate carrying yellow. He is outstanding in both conformation, field and obedience. Boomer has flawless movement with a perfect top line. Boomer has the sweetest personality with a great expression. Boomer is a highly driven retriever and helps us to train all our pups to retrieve. Boomer is very loyal and obedient to his Master.
Boomer is owned by Mark and Deb Klohman - Ft. Wayne, IN - (260) 486-0182.
Vote for me in Top 50 Labradors Retrievers
Pedigree for Twigs Indiana Boomerang JH WCX CGC WC
Sire Int. CH Fawnhaven Eagle Over Chardon NA WC SN249486/01 OFA24E OFEL24 CERF17 CHLT
Sire CH Fawnhaven Kiva Dweller CD JH SN056368/03 8-95 OFA24G OFEL24 CERF37 BLK
Sire CH Sailin' Cajun's Casanova CD SD982612 11-85 OFA28 BLK
Dam Jollymuff Weave Room Blues SF135037 7-89 OFA26G OFEL50 CERF105 BLK
Dam CH Chelons Blackthorn Snow SF142860 8-90 OFA27E YLW
Sire CH Governor Woody's Best CD SE5167759 3-88 YLW
Dam CH Starpoint Blackthorn Blonde CD SE425277 6-88 YLW
Dam Can CH Twigs Licorice Twist Can WC JH CKC CU208531
Sire CH Cedarwood Gunner Shooter O'Fawnhaven CD SH SM903363/05 3-94 OFA24G OFEL24 CERF62 CHLT
Sire CH Cedarwood Squire Tucker O'Fawnhaven CD JH SF752613 9-91 OFA24G OFEL24 CERF94 BLK
Dam Desperado Cedarwood Majoret SF611541 2-92 OFA29G Blk
Dam Shooter Third CKC VL7018939
Sire Ladoucer's Shadow CKC NS309145
Dam Taradam's Tia MarieCKC SN492368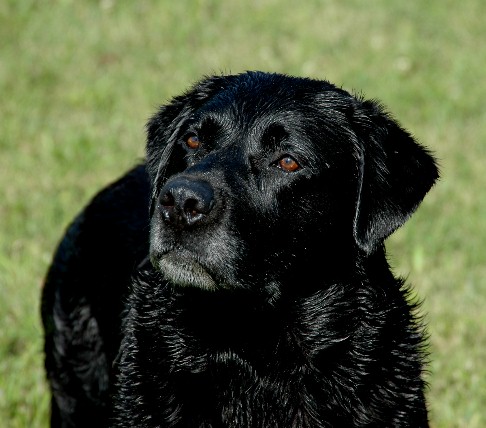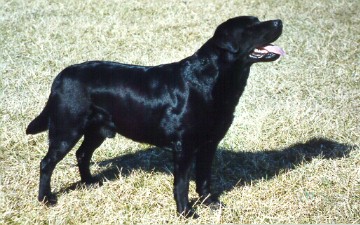 On 10/18/02, Boomer won 3rd place in the Open Black Dog under Judge: Mr. Doug Windsor at the National Specialty Labrador Retriever Club, Inc. held at Valparaso, IN.
On 5/21/01, Boomer won 3rd place in Open Black dog under Judge: Mr. James W. Eberhardt at the Kokomo Kennel Club in Greentown, IN.
On 5/13/00, Boomer won 1st place in the Field dog class at the Miami Valley Labrador Retriever Club Specialty in Hamilton, Ohio under Judge: Betty Graham.
On 3/25/00, Boomer won 3rd place in open black at the Auburn Classic Cluster at Auburn, IN under Judge: Mr. Richard D. Buckel
On 9/19/99, Boomer wins 1st place open black dog and Winners Dog at the Greater Lafayette Kennel Club Dog Show at Lebanon, IN under Judge: Mrs. Suzanne Dillin.
On 9/18 Boomer placed 3rd in Open dog at the Indiana Central Kennel at Lebanon, IN under Judge: Mrs.C. Thomas.
On 5/23, Boomer wins 1st place in open dog, Winners Dog and Best of Breed at the Kokomo Kennel Club show under Judge: Mr. Roger R. Hartinger. On 5/22, Boomer won fourth place under Judge: Mrs. Ann F. Yuhasz in open black dogs at the Kokomo Kennel Club of Indiana.
On 3/28, Boomer took 4th in open black dog at the Auburn, IN all breed dog show.
On 3/7, Boomer wins 1st place Novice dog class at the HLRC Inc. Specialty in Indianapolis, IN.
On 2/13, Boomer wins 1st place Open Black Dogs under Judge - Mrs. M. Rosalie Anderson at the Central Indiana Kennel Club, Indianapolis, IN.
On 10/16/98, Boomer won 2nd place in 15 -18 months sweepstakes at the LRC National Specialty in Gray Summit, MO. The LRC was held at Gray Summit, MO. On 10/17, Boomer won 4th place in the12-18 month dog class.
On 9/26, Boomer took 2nd place at the Hoosier Kennel Club in open black dogs.
On 9/12, Boomer took 2nd place in open black dogs at the HLRCInc B-OB match.
On 5/16/98, Boomer was shown at the Kokomo Kennel Club of Indiana where he took 3rd place in open black.
In August '97, Boomer came in 2nd place in his first HLRC Inc B-OB match in Anderson under Judge Tom Shearer.
Field:
October 2004 - LRC Nationals - Boomer was used for the test dog.
The 2004 Labrador Retriever Club, Inc. Nationals held in Colorado.
On Saturday 10/9, Dale Judged the Working Certificate along with Breeder/Judge Barb Ironside of Fawnhaven Labradors. See photos below. The WC test dog used was our Boomer.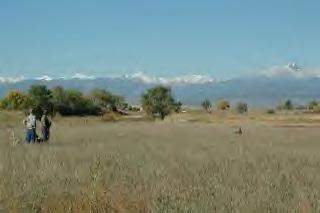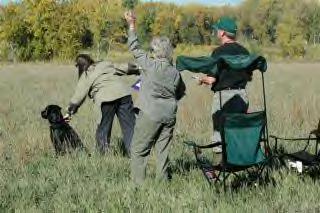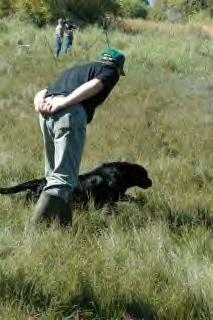 Working Certificate Judge and Test Dog (Boomer)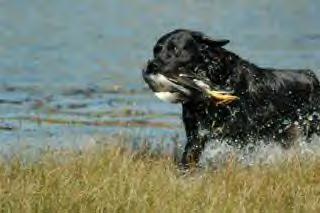 Boomer marking a bird August 2001: Boomhill.JPG
Boomer obtained his LRC-WC test October '97.
On 4/4&5/98, Boomer completed his 1st & 2nd leg of his JH title at the Central Kentucky Retriever Club Inc. in Beaver Dam, Kentucky.
On 4/19/98, Boomer finished his 3rd & 4th legs of the JH and was titled at Backwater Retriever Club in Syracuse, IN.
On 6/6/98, Boomer finished his WCX (double water and land retrieves) title at the HLRC Inc in Cicero, IN.
Boomer is a gifted retriever, athletic, mentally tough and will go through anything to get the bird. Boomer is an excellent marker and runs/swims hard to retrieve the bird. A judge stated " I can feel the earth move when he runs", as Boomer was enroute to retrieve the fallen duck.
On 10/9/99, Boomer passed the LRC WC under Judge: Chris Cornelius handled by Jason Pickett - 11 year old nephew.
Boomer's sister "Can. Ch. Twigs Dancing with My Shadow, WC, CD, SH. -lives in British Columbia, Canada.
Obedience:
On 5/9/98, Boomer passed the AKC CGC test at the MVLRC Specialty in Dayton, Ohio.
---
Clearances:
At the age of 24 months on 6/15/99, Boomer was evaluated by OFA and the results were no evidence of hip dysplasia and the hip joint conformation was evaluated as GOOD - LR-97550G24M-T.
On 6/15/99, based upon the radiographs OFA found no evidence of elbow dysplasia - LR-EL8647-T.
Boomer's eyes are CERF'd annually.
Boomer's AKC Certificate of DNA Analysis, DNA Profile #: V32639 Date of analysis 1/8/99.
Boomer Vetgen Chomagene Test Report found that Boomer is a Chromagene Type IV Bb-Ee (Byc) on 1/13/2000 report #13056.
---
Boomer's Photos and his offspring:
On 2/1/03 "Reilly" (Boomer X Bubbles) earned his third qualifying Novice Obedience Score (4th time ever in the ring) to earn his CD obedience title at the Seattle Kennel Club (all breed) show. He was also the third highest scoring dog (out of 20), which earned him a third place ribbon. I will send you a copy of the official photo once it is ready.
The spectators were all very taken with Reilly (he is just a very sweet dog, and his face/head draws a crowd), and it was nice to get so much positive feedback about him. He is in 7th heaven right now.
8/2
Linda and Dale,
Reilly earned a qualifying score and 1st place in Open A Obedience at the PSLRA Specialty held on Whidbey Island, Langley, WA today! This was Reilly's first time in the Open ring, and it was great to have such a nice performance and earn the 1st CDX leg at the specialty.
Hi there, Reilly is now officially
Black Rock Life of Reilly CD, JH, CC, CGC! (Boomer X Bubbles)
Reilly finished his JH title with style at the Oregon Retriever Trial Club held at Sauvie Island in Portland Oregon yesterday. He had 4 very nice retrieves and received compliments from the judges (Jim Morris and Phil Speer). After Reilly's first retrieve, Jim said he really likes a dog that looks like it knows what it is doing. For all the attitude he gives me at times, it has never diminished his excellent marking ability and he marked those birds dead-on today. He also tried something new and delivered promptly to hand - he was very pleased with himself. Jim said Reilly reminds him of a dog he used to have. The weather was the best I could have hoped for in mid-July. It was overcast with a nice breeze until about noon, and then the sun beat down hard (although the temp was a pleasant 74 degrees).
Reilly is really enjoying his tracking lessons and is making good progress. We have introduced turns and crosstracks, and he has not had difficulty with these. Our tracks are only about 150-200 yards right now (still using food too), but that is fine. He is still tracking on a short leash, so the next step is to track with a long line (they have to track 20 feet ahead of the handler at the test). We are going to be really busy in the next month and a half, so I am not sure how much time we will have for tracking practice, but we will get there eventually. Barb said that if reilly earns his tracking title, he will win the PSLRA versatility award. I entered Reilly in Open A at the PSLRA specialty August 1-2 Darlene
Boomer is the Grandson of the # 1 stud dog at the Labrador Retriever Club, Inc. 1997 National Specialty winner - AM/Can CH Cedarwood Gunner O'Fawnhaven CD, SH, WC, CGC. Photo: ShooterSH. Best stud dog at LRCC Specialty May'98 in Canada.

Boomer at 1.5 years old:MVC-017

Black Rock Life of Reilly CD, JH, CC, CGC

Black Son of Boomer X Bubbles at 7 weeks old.

Boomer's Grandmother: Weaver

---

Boomer's sister:

CANADIAN LRC - REGIONAL SPECIALTY, JULY 18, 2003 BRITISH COLUMBIA Judge Nancy Talbot BEST OF BREED - CAN CH TWIGS DANCING WITH MY SHADOW, CD, WCX, SH (By:Int Ch Fawnhaven Eagle Over Char Don, WC, NA x Can Ch Twigs Licorice Twist, CD, WC) Breeder: Bonnie McGhie, Owner: Bonnie McGhie

8/2/03 Boomer's sister, Can Ch Twigs Dancing With My Shadow CD SH WCX, won the Hunting Retriever Bitch class and a JAM at the PSLRC - Washington under Michael Lanctot (Ebonylane).

Boomer at 9 months: Boomie

Photo of Boomer X Breezy puppy: Bailey and Mom
Boomer's Get:
Just wanted to let you know Ember (Boomer X Breezy) received her JH title at the Fox Valley Retriever test on the 15th of July 2002. We have one more Leg for her UKC HR title and then we will be done for the year. We will try Seniors and Finished next year. Say hello to Breezy and Boomer from Ember. Thanks for your help. Ginger
Below: Gunner (Boomer X Bubbles) at1 year old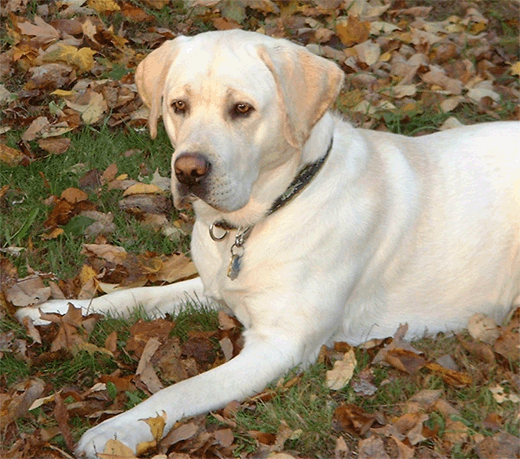 Boomer X Breezy pup: 10/14/01 Hi Dale and Linda, Just a quick note to let you know Blackrocks Midnight Rose "Rosie " earned her Intermediate Working Certificate today at the Miami Valley Trial. One of your club members were there and said she looks just like Boomer. Rosie is a true joy and born retriever. Regards, John and Sherry Federl
Boomer's Daughter: BeBe at 9 months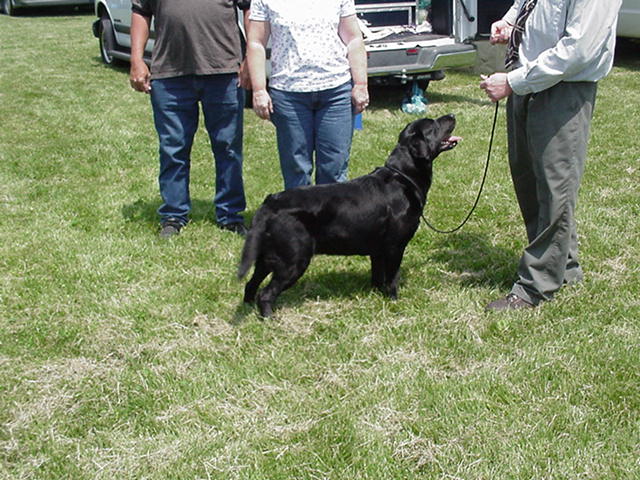 Boomer's Grandson - BeBe Labs Brute - Owner Cheryl Moore - Kentucky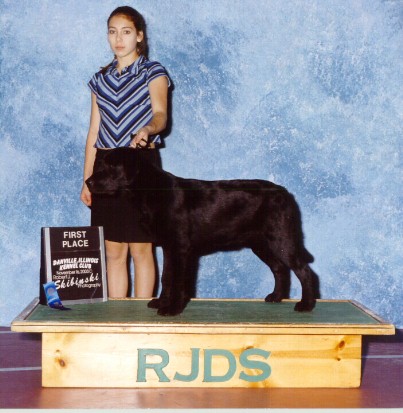 Updated 1/30/05 at 5:20 p.m.