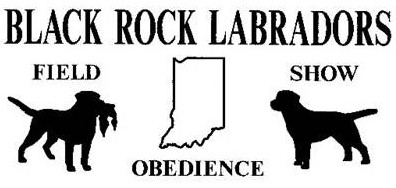 (My Passion and Hobby)
My Labrador Retrievers are for conformation, hunt tests, obedience, public service, bird hunting, agility, and lovable companions. I believe that Labrador Retrievers should possess the 6 Ts: Excellent temperament, trainability, English type, correct bite/detention - teeth, a strong topline and a correct tailset with an otter tail which are the foundation of the Labrador Retriever breed.
My Boys * My Girls * Black Rock Ties* Personals * Best Practices
GOD

DOG
When God had made the earth and sky, the flowers and the trees, He then made all the animals, the fish, the birds and bees. And when at last He'd finished not one was quite the same. He said I'll walk this world of mine and give each one a name. And so He traveled far and wide and everywhere He went, A little creature followed Him until it's strength was spent. When all were named upon the earth and in the sky and sea, The little creature said, "Dear Lord, there's no name left for me." Kindly, the Father said to him, "I've left you to the end. I've turned my own name back to front and called you DOG, my friend." - - - Author Unknown.
A righteous man cares for the needs of his animal, but the kindest acts of the wicked are cruel. Proverbs 12:10 KJV
| | | | |
| --- | --- | --- | --- |
| All digital photographs/web design by Dale Brummett. This website is best seen via high speed internet connection, due to the amount of photos posted. | The photos can not be copied or reproduced without expressed permission of the owner Dale Brummett. | The Black Rock (kennel name ) created in 1993 and the creation of the website by Dale Brummett since 1997. | Dale Brummett mylabsdad@aol.com (317-508-9443) |