Black Rock Bahama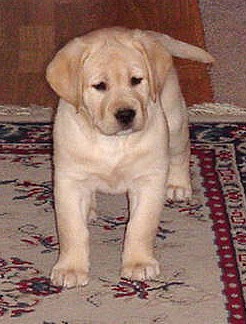 Bahama at 8 weeks old.
Bahama is an outstanding yellow girl that comes from a conformation Champion Sire and a versatile Dam for show, field and obedience. Bahama was whelped on November 28, 2001. Bahama has a bubbling spirit with a curious attitude. She loves to explore and has no fear! She has an expression that just melts your heart.
Highlights and Pedigree:
Dam: Black Rock's Bubbles Burst JH, CGC, WC whelped 12/24/96 (yellow)
Sire: CH Hunt Club's Sho-N-Tail Risky Business "Kruse" whelped 12/5/96 (Yellow) Kruise finished his AKC Championship with 19 points and 3 major wins.
BLACK ROCK BAHAMA SN882609/01 YLW
Sire
CH Hunt Club Sho N Tail Risky Business "Kruse" SN409221/04 5-98 OFA27G YLW

Sire
CH Tabatha's Drifter at Dickendall JH (Retired) SN 936340/04 4-93 OFA28G OFEL28 CERF91 BLK DNA Profile #V34550
Sire
CH Dickendall Arnold SF639713 4-96 OFA25G Cerf125 BLK DNA Profile #V33655
Dam
CH Tabatha's Valleywood Decoy Decoy's webpage SE060992 3-87 OFA24 YLW
Dam
Hunt Club Sealed With A Kiss SN024414/08 10-95 OFA27G OFEL27 BLK
Sire
CH Scartho Frost SM979983/01 11-92 OFA20G BLK (UKG)
Dam
CH Hennings Mill Sommit Ruff Gem SF95718 4-92 OFA29G YLW
Dam

Bubbles Bubbles Burst Brummett JH CGC, WC SN404442/03

Sire

CH Lab-Adore's Night Spirit SF965758 11-92 OFA24G BLK

Sire

Sire CH Valleywood Nighthawk SF717876 11-90 OFA24G OFEL24 CERF81 BLK


Dam
Dam Valleywood's Catch The Spirit SE986686 11-90 OFA24G BLK
Dam

Dam Bell's Little Crackerjack SN148744/03 3-97 OFA24G OFEL24 YLW

Sire

Sire RidgeViews Brador Bell CD SN002670/06 6-94 OFA24G YLW


DamDam Bell's-Shannon-Lady CD SM896133/03 6-94 OFA36G YLW

This pedigree page was built for free at SitStay.com
In the Field:
Bahama swam for the first time at 11 weeks old on 2/16. She loves to take walks in our woods and explores all kinds of smells.
More photos: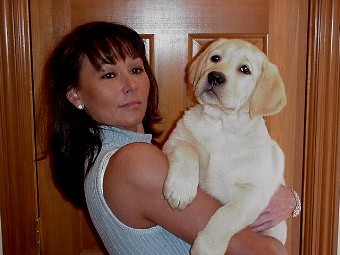 Aunt Lisa with Bahama (2/17/02)
Download video: Bubbles and Bahama playing at 8 weeks old: BahamaBubbles8wks 37 seconds.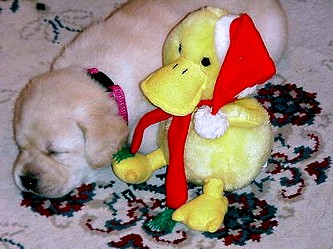 Bahama at 4 weeks old.
Note from the Owners of Bahama:
4/17/06
Thought I would give you a little Bahama update. All is quite in the Nash house hold since our daughter Jill got married last August. Since Bahama is such a well behaved dog, Jill sometimes borrows her and takes her to work for her clients (physically and mentally impaired adults) to enjoy. As a result of Bahama's willingness to participate, I'm probably going to take her through the process of becoming a therapy dog with TDI. I'm sure she'll have no trouble passing the tests.
2/5/04
I have been meaning to send you a photo or two of Bahama, but just can't seem to get it done. Last July, we moved to a new house. I think the happiest member of the family was Bahama. See the new house has an in ground swimming pool. At first I don't think she knew what to make of it, but after she got in, she fell in love. I actually don't think she dried out until late October when I put the cover on it. Then she would go out in the yard and just sit there and stare at the covered pool. I think she was mourning. Don't worry thought, on Saturday and Sunday we resumed walks in the wildlife sanctuary, and it was back in the lake until it froze in late December. I've got to say, I don't think we'll ever have a better dog than Bahama. She's so sweet and easy going. We had tons of people at our house all summer because of the pool and she just enjoyed the company of everybody. At times, you might even find a little child being pulled around the pool while hanging on to Bahama's tail. She minds great, never barks, doesn't beg, doesn't roam and loves to be with us.A funny story. Shortly after we moved in, one morning about 4 AM, Bahama was in her crate barking. Since she never barks, I figured she had to go out. I got up and went to let her out. As soon as she got outside, full speed ahead, straight to the pool for a swim. I couldn't believe my eyes. She tried that trick several more nights, but it didn't work again.
Tom Nash
Springfield, IL
Have a great day - thanks again for breeding such great labs.
Home: blackrocklabs
Updated on 4/17/06 at 7:30 p.m.