Bubbles Burst Brummett JH, CGC, WC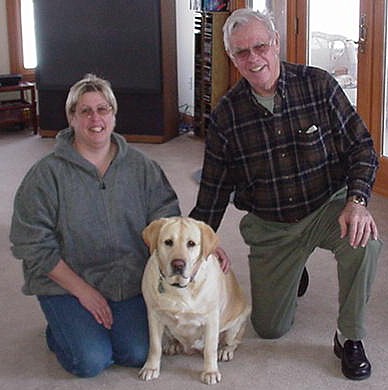 Cindy, Bubbles and Bud - January 18, 2003
Bubbles was whelped on December 24, 1996 in Brownsburg, IN. Bubbles has an outstanding head and lovely sweet expression with strong shoulders with nice angles. Bubbles has very nice front/rear movement. She is very obedient and loves to retrieve. Bubbles is very versatile with the ability to show and work in the field. She is an excellent marker and has a great nose for the bird. Bubbles Loves kids and puppies. She has no enemies.
Update: 3/20/04 Hi Dale & Linda: All moves are of for now. I have to have operations on both eyes, so I am grounded for a while. Bubbles is the rage of the neighborhood, every one loves her. We walk at least twice a day so she can say hello to all her friends. One problem though she has taken complete control of my bed. If I am lucky I can have half. Just cannot say how much joy she has given me. Once again thank you. Bud
Bubbles is now retired and living with Bud Albrecht - Locust Grove, VA. E-mail: Albr28@aol.com
Vote for me in Top 50 Labradors Retrievers
Pedigree for Bubbles Burst Brummett JH ,CGC, WC SN404442/03
Sire CH Lab-Adore's Night Spirit SF965758 11-92 OFA24G BLK

Sire CH Valleywood Nighthawk SF717876 11-90 OFA24G OFEL24 CERF81 BLK
Sire CH Marshland Blitz SE116155 6-85 OFA41G BLK
Dam Valleywood Crow Haven Fiddle SD564865 1-87 YLW
Dam Valleywood's Catch The Spirit SE986686 11-90 OFA24G BLK
Sire CH Killingworth Borador Travis SD721815 7-84 OFA24 BLK
Dam Valleywood Vignette SD777275 12-84 YLW
Dam Bell's Little Crackerjack SN148744/03 3-97 OFA24G OFEL24 YLW
Sire RidgeViews Brador Bell CD SN002670/06 6-94 OFA24G YLW
Sire CH Sunnybrook Pine Edge Lucky SM776434/01 YLW
Dam RidgeViews Licorice Lady SF570726 7-90 OFA37G BLK
Dam Bell's-Shannon-Lady CD SM896133/03 6-94 OFA36G YLW
Sire CH Hennings Mill Caruso SF018320 12-90 BLK
Dam LiliuokalaniSF776049 1-92 YLW
Show:
Bubbles has retired from showing.
2000
On 6/3, Bubbles won 1st place in open yellow bitch at the HLRCInc B-OB match under Breeder/Judge Linda Bednarski.
On 3/6, Bubbles LisaBub placed 3rd in Hunting Retriever bitch under Judge: Mrs. Sharon Grieves at the Hoosier Labrador Retriever Club Specialty at Indianapolis, and was shown by her Aunt - Lisa White.
1999
On 6/19, Bubbles finished in the top 5 American Bred bitches and was the only yellow bitch in the final selection at the Winnebago LRC Specialty under Dr. Michael Woods, St. John, Newfoundland.
On 5/23, Bubbles wins 1st place in open yellow bitch at the Kokomo Kennel Club under Judge: Mr. Rodger R. Hartinger.
On 5/22, Bubbles takes 3rd place under Judge: Mrs. Ann F. Yuhasz in the open yellow bitch class at the Kokomo Kennel Club of Indiana.
On 3/6, Bubbles won 1st place Novice bitch under an English Judge: Mrs. Denise Timms at the HLRCInc Specialty in Indy.
1998
On 9/12, Bubbles took 1st place at the HLRCInc B-OB match.
On 5/16, Bubbles was shown at the Kokomo Kennel Club of Indiana where she took 2nd place.
Obedience:
On 5/9/98 Bubbles passed the AKC CGC test at the MVLRC Specialty in Dayton, Ohio.
Field: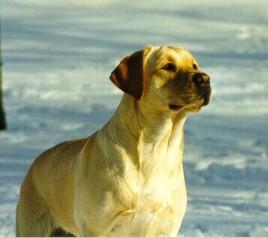 On 4/17/99, Bubbles qualified for her fourth leg and earned her Junior Hunting title at the Tri -County Wildlife Refuge in Syracuse, IN held by the Backwater Retriever Club.
On 9/5 & 6/98, Bubbles earned her second and third legs at the Ohio Valley Retriever Club at Coshocton, OH.
On 8/8/98, Bubbles completed her first leg of her JH title at the Backwater Retriever Club at Syracuse, IN.
On 6/6/98, Bubbles passed the LRC-WC at the HLRC Inc working test.
---
Clearances:
Bubbles hips are OFA Good #LR-93907G25f-T date of the evaluation 2/10/99.
Bubbles eyes were CERF 'd on 11/13/01 CERF # LR-18983/2001--59.
AKC DNA #: V32640 date of analysis 1/8/99
On the lighter side:
Bubbles loves to carry her favorite toy around until you take it and throw it for . Bubbles loves kids and puppies. Bubbles has no enemies and everyone is a potential friend. Bubbles loves the house and is very obedient.
Bubble's Photos:
Bubbles Puppies:
Black Rock Morgan on 7/24 at 10 weeks old: Father: SYLVAN MEADOWS BLACKROCK BRAVO WC, CGC
Black Rock Brigham at CrippleCreek Briggs at 9 weeks old.
Black Rock Sylvan Meadows Orange "Blossom" at 11 weeks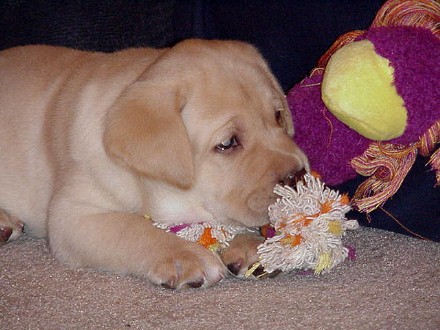 Bubbles X Boomer son - at 5 weeks old
---
Home: BRLABS
Updated 3/20/04 at 6:00 p.m.