Black Rock Brigett Babe JH, CGC, WCX, WC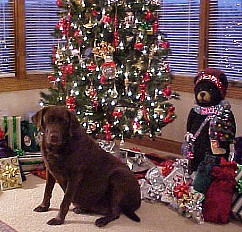 Brigett pictured at 9 years old.
February 13, 2008:

I am so sad to let you know that we had to have Briggy put to sleep yesterday. She fought pneumonia so valiantly just a few months ago but in diagnosing that we learned that she had an enlarged heart and a thyroid condition. She was doing quite well actually until just a couple of weeks ago. Yesterday she told us it was time to let her go and so we did. Our hearts are broken, Dale and we will never ever forget our beloved girl or you. Because of your kindness and generosity we were blessed with the best little Lab on earth who filled our hearts and home and completed our family. Our children and grandchildren are nearly as sad as we are. The void in our hearts feels like an endless black abyss. Thank you with all my soul for the gift of the beautiful little Labrador we call "Briggy" who will forever link our lives with yours. I so enjoy hearing from you and looking at your website and pictures, I pray you will continue to believe in our friendship and devotion to these wondrous creatures. Please say a prayer for us because we are so sad right now. I prayed to God to give Briggy a special hug for us and to let Him know she's a very special angel ready to rest at His feet now. Take care and God bless,Jan and John
Brigett was whelped on November 27, 1994 in Indianapolis, IN. She is out of the lines of Hennings Mill and Candlewood 's going back to High Rollin Hank SH. She is an intelligent, obedient and superior retriever. Brigett obtained the title of LRC-WC after two months of training. She also obtained her WCX title in October '97. Brigett is an athletic, intelligent, obedient and high driven hunting lab.
Field:
Brigett completed her 1st leg of her AKC Junior Hunting title in September '97. On April 4 & 5, 1998 Brigett finished her 2nd & 3rd leg of her JH title at the Central Kentucky Retriever Club Inc. spring hunt test in Beaver Dam, Kentucky. Brigett finished her 4th leg of the JH title and was titled at Backwater Retriever Club in Syracuse, IN on April 18, 1998.
On 6/6/99 Brigett passed the LRC-WC while being handled by Jason Pickett - 9 years old.
Obedience:
On 5/9/99 Brigett passed the AKC CGC test at the MVLRC Specialty in Dayton, Ohio.
Clearances:
Brigett has an OFA rating of "Excellent".
Brigett's eyes were CERF'd on 10/23/99 #SN21862805, CERF #LR-15375/1999-59
Brigett's AKC DNA #: V32638 Date of the analysis 1/8/99
On the lighter side: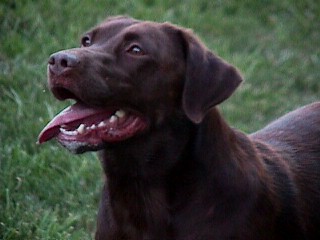 Brigett after many retrieves on a hot summer's day
Brigett is a versatile Labrador Retriever. Brigett's favorite sport is softball where she is the outfielder. No ball can get by her. Brigett's favorite toy is anything that squeaks. She won't stop until she kills the squeaker. Brigett will retrieve any kind of bird and is a ruthless tree dog for squirrels. She learned this as a puppy when she was raised with my Black & Tan coondog "Banjo" that is kept at my father's farm in northwest Indiana. Brigett trains all of our puppies for she will retrieve the bird and then try to get the pups to chase her then she gives it to them to carry.
Brigett's photos:
| | |
| --- | --- |
| Brigett at 3.6 years old: 032s | Brigett at 4 years old: brigett4 |
Brigett with her friend Jason: Brigjason, Photo of Brigett's first litter: 10of10, Brigett as a puppy: brigpup.
---
See: Past Litters: puppyphotos
Brigett is retired now but will never be too old to retrieve.
---
How is Brigett doing:
1/5/05 at 7:17 p.m.
Sure hope you're staying safe and dry in this awful weather! We love the photos of Bravo!
Brijjy is doing just great! She had a small benign cyst removed from her right elbow a couple of weeks ago. She is so brave...when the vet removed her stitches, she just stood there and wagged her tail at him. We take her walking with us as often as the weather allows and she's always so excited to go in the car. When it's too cold to walk, we still load her up and drive her around. She sits so proud and tall in the back seat with her nose against the window watching every little thing. When we drive through a fast food place in John's marked car, the window clerk will ask if she's a police dog. We get a big kick out of telling them "Yep, she's a real live search dog" Little do they know we mean she's always searching for a dog cookie or a hug! We all love her very much and she has truly blessed our lives...thank you both for taking a leap of faith and entrusting her to us.
Blessings in this New Year! Jan and John and "Briggy the Brave"
Sent: Monday, November 24, 2003 8:28 AM
Good morning! Brigett is doing great! We put up one of those silly inflatable Turkeys for our grandchildren and Brigett still thinks there's a prowler out there. She growls and her hackles go up every time she sees it. What a scream! She had her regular bath and nail clipping last week. She is such a beautiful and loving companion. We kept our 3 year old granddaughter for the weekend and Brigett never left her side- always alert with tail wagging slowly. When Lanie tried to go up to the turkey, Briggy wouldn't have any of that and nudged her away. You'd never know in a million years that they didn't grow up together. Obviously, she means the world to us and we are so thankful to have her! When things slow down after the Holidays, we'll have to have a visit... have a blessed and safe Holiday season! Give our best to Dale!
Kindest regards, Jan and Briggy
3/14/03
Dear Dale and Linda- Just a note to let you know that Brigett is doing wonderfully. She's awfully glad that spring is just around the corner. She put on a bit of weight over the winter (6lbs) but we're determined to lose that now that we can walk her daily in the nice weather. We were walking the other day and came upon a herd of 6 deer about 100yds ahead of us. She was so startled and soooo excited. I told her to stay and it took everything she had not to give chase. She is such a loving and obedient friend. We're shopping for a new "Jeep" and the #1 consideration is how comfortable she will be for loading and unloading.
6/7/02
Dear Dale and Linda...
Just a note from all of us in Kokomo...Brigett continues to endear herself to us daily.
She is absolutely the smartest, funniest, kindest, bravest dog I've known! She has become soooo protective of me, yet, she always knows who is a friend that she can relax around. John is very pleased with her drive to guard our home as well as us. She is the first one we see in the morning and the last to hug goodnight.
We love Brigett and thank God for your grace in allowing her to join our family!
Kindest regards,
Jan
Updated 2/13/08 at 7:40 p.m.