Black Rock Labradors
Presents
Bravo's Kids (Conformation)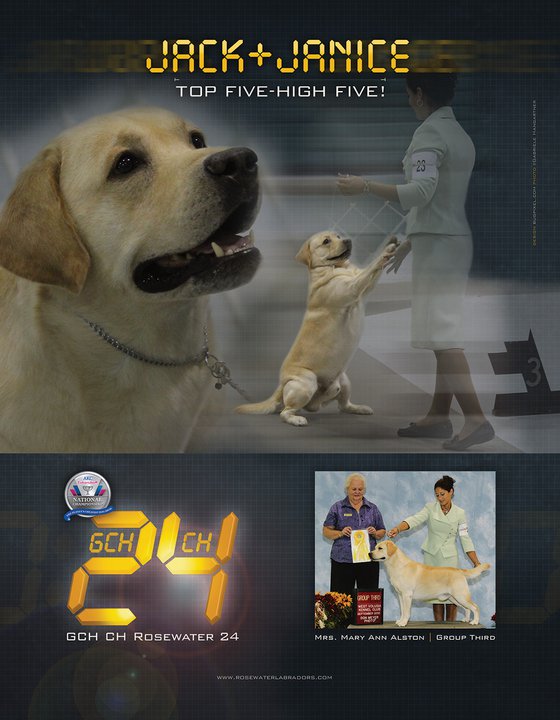 He was supposed to be a girl, my "Maddie girl" to be exact. Her name would have been Rosewater Miss Genevieve (Genny for short), named after Madeline's dog, but Maddie had other plans -- just boys for me, only three. He was born at 9 ounces -- half the size of his two big, white brothers -- wrinkled and dark and looked more like a gerbil than a Lab puppy. I asked if that was the girl and I was told to look again as he had an extra appendage that girls don't have. I remember saying, "Oh God, he's tiny and wrinkled and weird. I guess this is the pet!" The vet had concerns about his survival. She told me, not to get hysterical, but he was a bit "undercooked" and I would have to watch him closely to make sure he was progressing and gaining weight.
When Maddie was brought out of the C-section, he was the first to latch on, the first to scream if he got pushed out of the way, the first to poop, and do all those wonderful things puppies have to do. When I brought him home, he never left his mother's side and practically ate 24-7. He grew and he thrived, but he was still the "Little Man".
He became a terror in the whelping box. He picked on his big brothers and did whatever he wanted. When I gave a friend first pick of the litter, she didn't pick him. My husband didn't want to even keep a boy, but if we were going to keep a boy, he didn't want him. He said he was out of control and not loving like his big headed brother. However, I fell in love with the Little Man, head over heels and he stayed.
From Little Man he evolved into Jack Bauer because my husband said he was bad to the bone like Jack Bauer, thus his name became Jack (Rosewater 24). At 5 months of age, he injured himself running up the Jog-a-Dog while his mom was running on it. He slid down and his arm was caught on the rails. I thought he was done for. I expected a fracture, but he bounced back after a few weeks. I guess this is something Jack Bauer would do!
He was shown and he finished sometime before he turned 3. His brother had finished a few months before and was being shown on and off as a Special. After Jack finished and after much thinking, I decided that it would be Jack who I would really want to Special the following year. He didn't show much at the beginning of 2009, just a few times. His handler lost interest in him and cast him aside. After all he was only a Lab and the "Little Man" at that. I took him out of the ring and decided to wait a while to see what would happen.
Well, God had other plans for Jack and in a twist of fate Janice Granda became available to handle a Lab Special. She chose Jack. She said, "I want him in the Top 5!" I told her she was crazy. All I wanted was the top 25. She said she would take no less than the Top 5, but would still shoot for the 5.
She dedicated herself to him and he responded. Every time I would see them show, he was better. He continued to progress through the ranks -- just Jack & Janice -- no strings, no politics, just love and dedication. Today they have made me so proud with their accomplishments. Yes, Janice, you got your Top 5 and along the way some other very nice accomplishments -- the 4th Labrador Retriever Grand Champion and recipient of the AKC's Special Medallion; top 5 in All-Breed, an invitation to the Labrador Retriever Club's inaugural Top 20 Exhibition; ranked the number 2 Labrador Grand Champion and coming up, an invitation to Westminster! You're a Big Man now, Jack. Janice, I will be forever grateful. Love and commitment indeed can move mountains. Here's to you my Team 24! Rosy Harkow, Rosewater Labradors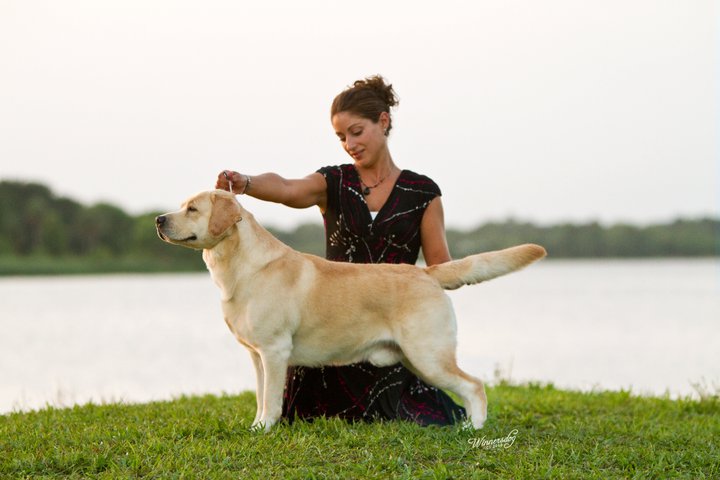 CH Rosewater 24 CGC "Jack" with Janice M. Granda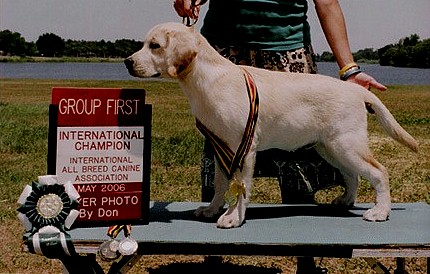 Jack (Maddie X Bravo) Rosewater Boys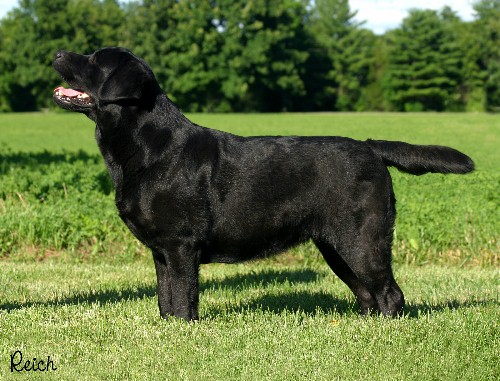 CH Sylvan Meadows Summer Breeze (Bravo X Hennings Mill Mistress at Sylvan)
#9 Lab all breeds 2003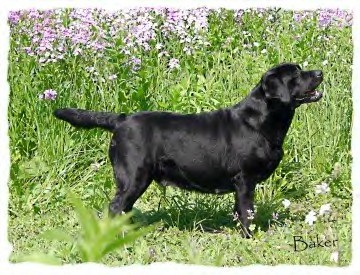 Ch Sylvan Meadows Free Spirit "Reagan" (Bravo X Hennings Hennings Mill Mistress at Sylvan)
Congrats to Daddy Bravo on his boys!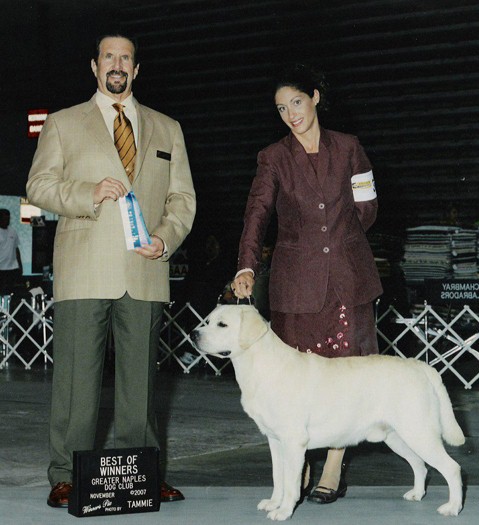 CH Rosewater New Yorker (Mr. Big) Mr. Big's handler, Janice Granda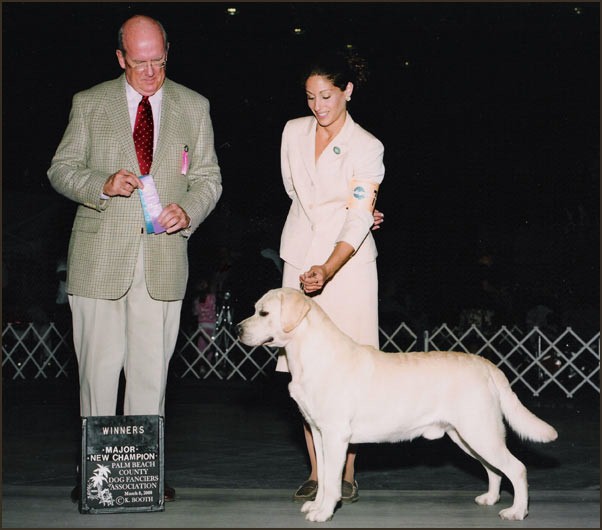 Mr. Big is as happy as he is beautiful. He is full of love and charisma, and like his mother, Maddie, his tail never stops! Mr. Big finished his AKC Championship at the very young age of 26 months and now holds multiple Best of Breed wins as well as a Group placement. Mr. Big is a registered and active therapy dog through Therapy Dogs, Inc. and he visits patients on the weekends he's not traveling to a show. Patients love his kisses! Mr. Big is owned by Mirta Segredo and co-owned by Rosewater Labradors.
---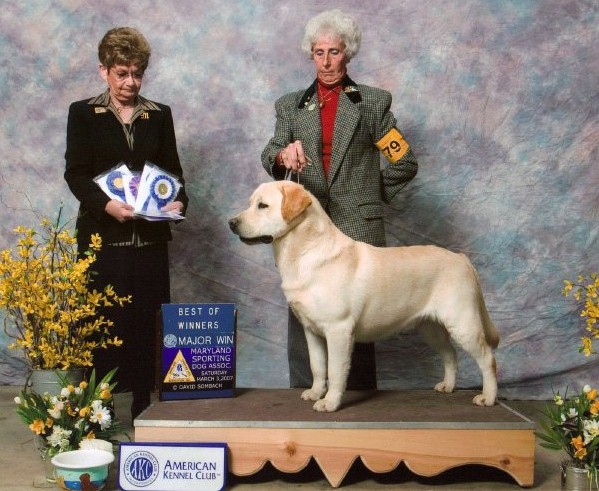 Steele's Like A Rock - Chevy only needs 1 point to finish.
CH Sylvan Meadows Black Rock Bravo WCI, CGC, WC X Valcar's A Pumpkin Pie, OFA Prelim Good, Elbows Normal, Heart Clear, CERF eyes, Optigen "Normal/Clear" Champion Major Pointed (Major I , II & III) Best of Winners at the Maryland Sporting Dog Show on March 3, 2007 under judge MaryAnn CzerwinskiSalisbury North Carolina Kennel Club show under judge James M. Brown. Best of Winners 3 pts.:-) Just got word that Chevy went BOW again today for another 3 pt. major at the Durham Kennel Club show under Diane Pilban! :-) Carrie Dilling steelelabradors
"Chevy" - Steele's Like a Rock (Bravo X Valcar's A Pumpkin Pie "Pumpkin") 3/3/07, Thought you would like to know that Chevy (Bravo X Pumpkin) took Best of Winners today at the Maryland Sporting dog show! Missed being a 4pt major by 3 dogs but I'll take the 3pt....LOL. Carrie Dilling Steele Labradors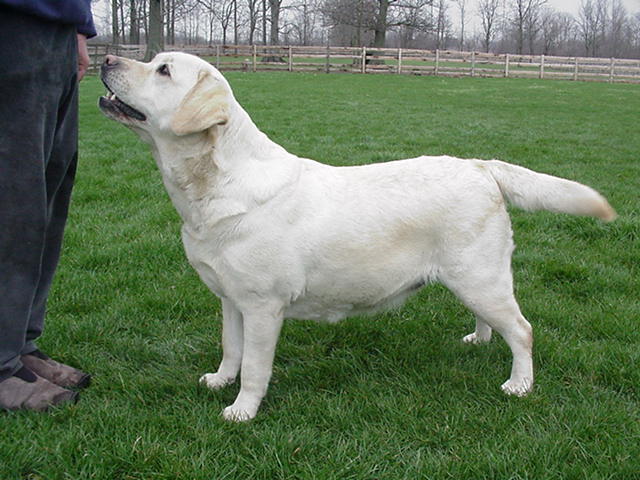 Sylvan Meadows hula Moon (Bravo X Hennings Mill Mistress at Sylvan)
"Jeep" - Steele's Life Is Good (Bravo X Valcar's A Pumpkin Pie "Pumpkin")
At 15months, Bravo X Ch Trendy's Destiny Of A Queen.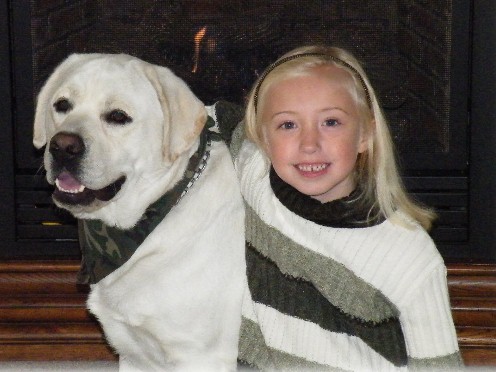 April 07 Bravo X Glory: SAM
He has turned into a beautiful dog. Sam weighs in at just over 95 pounds. My daughter is now 6 (7 in July) and we got the pup for her fifth birthday. They are best friends and Sam is very gentle with her and her cousins and friends that come over. He's the perfect pet! Thanks again and I hope you enjoy the pictures! Dave Brown
AbbyBravokids18daysold Abby X Bravo pups at 18 days
Bravoson@5months -Bravo X Jazz male pup @ 5 months
Louie is doing well in his conformation class and enjoys seeing all of the other dogs each week. His retrieving skills are excellent! My son will hit fly balls out in the field and Louie will be the center fielder and retrieve…It is a very fun game! Jennifer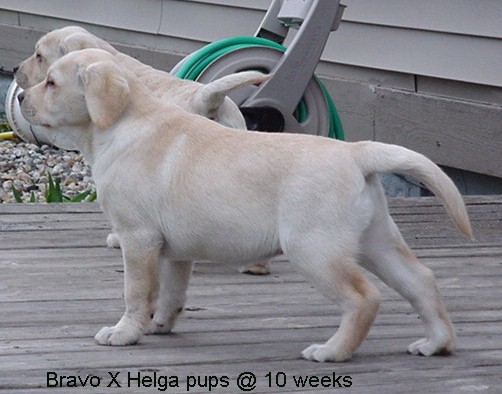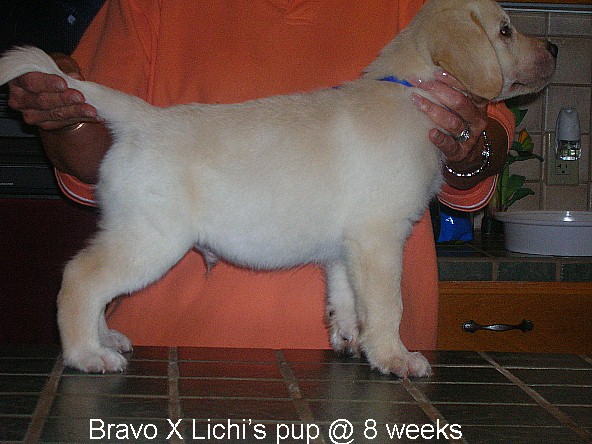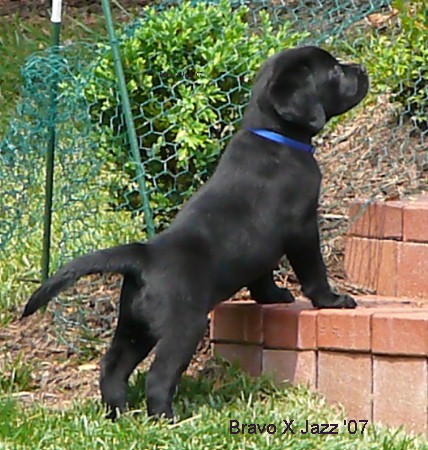 ---
CH SYLVAN MEADOWS BLACKROCK BRAVO WCI, CGC, WC - Kids - Companionship
---
CH SYLVAN MEADOWS BLACKROCK BRAVO WCI, CGC, WC - Grand Kids
---
Home: blackrocklabs
Updated on 11/11/10 at 12:40 p.m.