Ch Cedarwood BlackRock Sea Breeze WC, CGC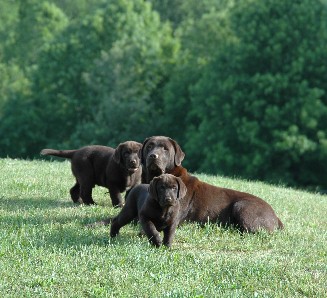 Breezy & kids - May 2004
Breezy was whelped on September 26, 1998 by Nancy & Carl Brandow - Cedarwood Kennels in Bradford, Maine. Breezy is a natural born show girl with lots of appeal and has outstanding coat, front & rear movement,expression and top line. Breezy is bold & beautiful and is one of the finest chocolate bitches born in the USA! Breezy has the sweetest personality and loves everyone she meets.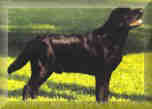 SIRE: Breezy is out of GMHR AM/MEX/INT CH. COOK'S MIDNIGHT BANDIT MH, TT (B/c)
DAM: Can. CH. Cedarwood's Ruthless Rochelle CD, JH, Am. Can. CD, AWC, CWC, TDI, CGC (C) from Cedarwood Kennels in Bradford, Maine.
Breezy's Grand Sire & Dam: Bitch side:
GSIRE: Tai-pan finished his Championship in the US with 3 majors including two specialty wins; in Canada with 2 Group Placements and has completed his Bermuda Champion. As a Special he has received Best of Breed's at the Boston, the Potomac and the Piedmont Specialties; Best of Opposite Sex at Miami Valley Specialty and numerous Judge's Awards for Merit. He was ranked the #3 Lab in the US in 1993.
GDAM: Ruthie was the first chocolate Champion / Master Hunter in the US. She was the sixth Labrador to achieve this ranking of any color in Labrador history. She is the only bench Champion to receive the Colonial Open Trial trophy and has been awarded for both 1994 & 1995. She completed her Championship with multiple Best of Breeds, group placements and Specialty placements; as well as qualifying in the Master National Hunting Retriever Trial in 1995.
Ch Cedarwood BlackRock Sea Breeze WC CGC SN580021/05
Sire CH Cook's Midnight Bandit MH SN072258/04 7-96 OFA25F OFEL25 CERF65 BLK

Sire BISS INT FCI AM & Mex. CH Janwood Secret Agent CD WC SF074736 6-90 OFA24F BLK Optigen A1

Sire CH Mallards Flying Clouds of Jan Rod WC SE554502 1-88 OFA24G BLK (SWE) Optigen A

Dam CH Janwood's Lady Perkins SD021828 4-85 OFA24 YLW

Dam CH Alvgardens Mischief Maker of Janrod JH WC SF530101 9-93 OFA25G OFEL25 CHLT (SWE)

Sire Alvgarden's Valle SKK S41828/82 (SWE)
Dam Alvgarden's X-Princess SKK S30404/87 (SWE)
Dam Can CH Cedarwood's Ruthless Rochelle CD JH SN078823/03 2-96 OFA36G OFEL36 CERF61 CHLT

Sire CH Flying Cloud's Tai-Pan SG042087 3-93 OFA29E BLK
Sire CH Hennings Mills Master Blend SE193504 4-86 OFA24G CHLT DNA Profile #V32792
Dam Green Valley's Carolina Mist SE551319 7-90 OFA34E BLK
Dam CH Plantiers Ruthless Ruthie CD MH SF646064 8-92 OFA25E OFEL25 CHLT
Sire CH Lindall Mastercraft SE392851 3-86 BLK (UKG)
Dam CH Cedarwood's Sable JHSE130480 1-87 CHLT
Vote for me in Top 50 Labradors Retrievers
In the Show ring:
Ch Cedarwood BlackRock Sea Breeze WC CGC - Show
Field:
5/22/04: Breezyretrieve - movie
On 4/13/01, Breezy Breeduck passed her First leg of her quest for the Junior hunt title under Judges: June Radke, Steve Bernock and (apprentice) Wendy Nugent at the Backwater Retriever Hunt test in Syracuse, IN.
On 10/9/99, Breezy passed the LRC WC under Judge: Chris Cornelius - President of the Backwater Retriever Club of northern Indiana put on by the HLRCInc.
Breezy is an intelligent, sweet chocolate girl. She has already retrieved ducks, pheasants, quail and pigeons at the early age of 12 weeks old.
Obedience:
Breezy is in training for her AKC CD title.
On 3/14, Breezy successfully completed a 10 week "Super Novice I - Good Novice Obedience Training given by Rich Strong at the Joann Peavler's Indy K-9 Kollege.
On 5/22/99, Breezy passed the AKC CGC tests judged by Rebecca Davis - President of the HLRCInc in Brownsburg, IN.
Clearances:
On 11/3/00, Breezy was cleared by Orthopedic Foundation for Animals (OFA) as having "Excellent" hip joint conformation at 24 months. LR-109767E24F-T
On 11/3/00, Breezy's elbows were also checked and found no evidence of elbow dysplasia. LR-EL11707-T
Breezy was cleared by Orthopedic Foundation for Animals - preliminary (Consultation) report as having "Excellent" hip joint conformation at 7 months. 99-201
On10/30/04, Breezy's eye were CERF'd by Veterinarian Medicine, Purdue University.
---
Breezy's Kids: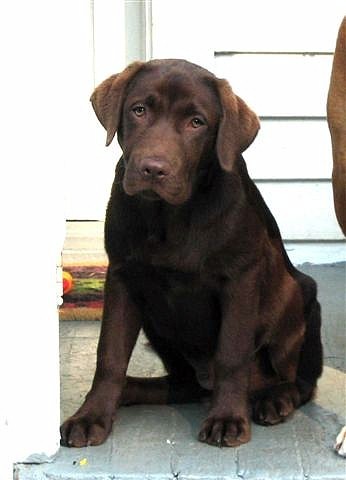 Breezy X Brody litter (Steve)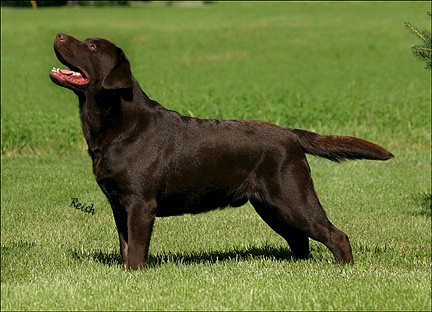 Beemer at 19 months old - June 2004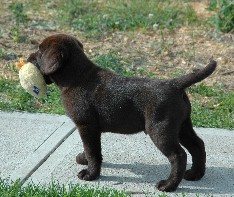 Chase - Breezy X Brody litter - 2004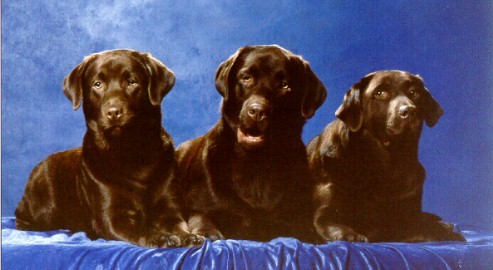 Breezy X Bru litter - 2002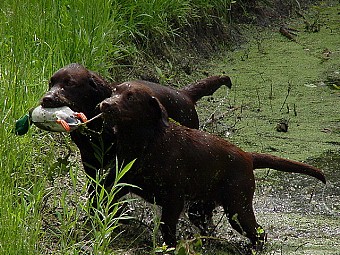 Black Rock Belmont and Black Rock Beemer at 6 months old.
See Breezy's past litter:
---
Breezy's younger brother: CH HIGH VOLTAGE BLAZE'N CHASE JH/CD/CGC/WC
Updated 01/01/04 at 1:15 p.m.